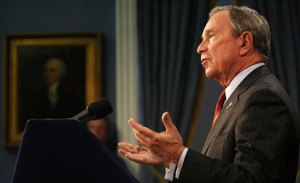 In a small Brooklyn elementary school on Sept. 16, surrounded by reporters squeezed into tiny wooden chairs, Michael Bloomberg fed speculation that he may run for a third term as mayor.
Asked whether the Wall Street meltdown this week boosted the case for extending term limits, Mr. Bloomberg said, "There is an argument for experience. There is an argument for change. And I think it's purely a question of what you think the appropriate balance is."
With that, Mr. Bloomberg, skilled at keeping rumors about his political future alive, left observers still guessing about whether he and the City Council will make a legislative change before the 2009 election to allow city officeholders to serve three consecutive terms in office, instead of only two.
"As you know, I do think that term limits are a good idea," Mr. Bloomberg said. "I've said before that you can have an honest discussion about two or three terms. Four, to me, sounds much too long. But there is an argument that experience—you don't have enough experience in two terms, and you would with three. And I think it depends on the bill."
One day earlier, at a City Hall press conference, Mr. Bloomberg sought to reassure the public about the Wall Street downturn, saying he is optimistic that the next administration in Washington, and the next Congress, can handle the challenge of sorting out the nation's fiscal woes.
Notably, he didn't mention the next administration in City Hall.
There is broad support for some sort of change within the Council—where term limits are about to turn 36 of that body's 51 members out of office—contingent on whether the mayor decides to throw his weight behind the effort.
A bill to give lawmakers three terms is currently being drafted by Councilman Oliver Koppell of the Bronx, who previously served in the New York State Assembly and, for 11 months, as the state's attorney general.
"To have a mayor that is knowledgeable about financial matters is good," Mr. Koppell told The Observer. "And we want the financial community to have confidence in the city as they're making decisions in this very turbulent time."
Mr. Koppell also said that his colleagues who have been around for two terms are well equipped to handle the city's fiscal problems. "The members of this Council have faced the difficult fiscal times after 9/11, and we'll be facing a similar situation in the next two years. We know we'll have to bite the bullet and make difficult decisions."
Fred Siegel, a historian at Cooper Union and part of the brain trust that advised Republican Mayor Rudy Giuliani, said Mr. Bloomberg's statement "does reflect a degree of flexibility—let's extend term limits, but only three terms."
Asked about statements Mr. Bloomberg has made in the past—that he would not to pursue a third term or changes to the current term-limits law—Mr. Siegel said, "It sounds to me like he's backing away a little."
Political consultant Joseph Mercurio, who helped 2005 mayoral candidate C. Virginia Fields, said the mayor's "vacillating" has put the city's political class "into a wonderland."
"The fact that he's not making a clear statement one way or the other keeps the question alive," Mr. Mercurio said. "There's a lot of candidates who haven't gotten into aggressive campaigning because they don't know if this is going to happen or not."
apaybarah@observer.com