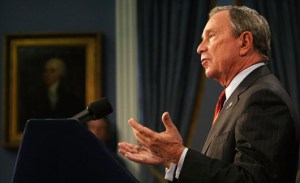 Michael Bloomberg's tax policy is giving his political allies a headache.
At a breakfast in midtown last week, State Senate Republican Majority Leader Dean Skelos tried to send a clear anti-tax-increase message to business leaders.
"As I said before, the Senate is ready to do what's appropriate to reduce spending, but we should not raise taxes, as some have indicated. In this fragile economy, it would be disastrous to raise taxes," Skelos said.
The speech, hosted by the Association for a Better New York event, went over well with the pro-business crowd. But speaking with reporters afterward, Skelos had a slightly harder time dealing with a question about Michael Bloomberg's recent comments that, in order to balance the budget, city lawmakers may have to repeal the 7 percent property tax cut they enacted in 2007. New York City's property tax, which the City Council raised by 18.5 percent in 2002, is determined by city lawmakers, while income and sales tax in the city also have to go through state lawmakers in Albany.
"Everybody has to do what they think is appropriate for their constituents," Skelos said. He tried to shift the conversation back to personal income tax, but again, he was asked about Bloomberg.
"I don't support them raising any taxes," he said, "but everybody has to make the decision in terms of how they can more efficiently run their government."
Skelos can be forgiven for not wanting to offend Bloomberg, whose ability to write huge checks is helping the G.O.P. stay competitive in its battle to maintain a two-seat majority in the State Senate.
Liz Feld, the Republican mayor of Larchmont who is running for State Senate against incumbent Democrat Suzi Oppenheimer, was also at the ABNY breakfast, where Republican Ed Cox introduced her to a reporter by saying, "[Feld's] opponent has been raising taxes and is against the property tax cap. So, there's the issue. And Liz has been endorsed by Bloomberg."
When asked about Bloomberg considering a property tax increase, Feld said it had to be viewed in context.
"Listen, Michael Bloomberg is going to do what he needs to do to run New York City and I give him all the credit in the world for stepping up and making some very tough decisions over the course of his tenure here." Feld added, "I'm not going to sit here and second-guess what he's looking at doing. And obviously we know these things are always part of a bigger package."
In Queens, the picture is similarly complicated. Bloomberg endorsed Republican State Senator Serphin Maltese, who is attacking his Democratic challenger, City Councilman Joe Addabbo, for voting to increase taxes as a member of the City Council. A mailer sent from Maltese's campaign says, "Councilman Addabbo passed the largest Property Tax hike in the city's history. Increased the Sales Tax in the city to 8.625% and raised the city Income Tax."
The "Property Tax hike" the mailer refers to was supported by Bloomberg, and he recently defended it at a press conference in City Hall. When asked last week if it was fair to criticize council members who voted for the 2002 increase, Bloomberg said, "For doing what? Paying our firefighters and police officers and improving our schools? I don't understand what you think they did wrong."
When told that vote was being criticized by Maltese, whom he supports, Bloomberg said he hadn't seen that particular piece of mail and didn't know what Maltese was saying on the campaign trail.
A Maltese spokeswoman, Kristin Lord, e-mailed to defend the claims in the mailer, and reinforce its message.
Lord wrote, "The mailpiece sent out by Senator Maltese was in response to attack mailpieces sent out by Councilman Addabbo, misleading the voters on the Senator's record. Councilman Addabbo brought the issue upon himself and we are countering his message to get the facts straight. It is hypocritical for the Councilman to continue to attack the Senator on taxes, when the fact remains that he has repeatedly voted for tax increases."
But because income and sales tax increases have to get approval from state lawmakers, while Addabbo can rightly be said to have supported raising taxes, in a way, so did Maltese.
Since both city and state lawmakers play crucial roles in raising taxes, it can be difficult for voters to sort out the candidates' messages, said Gene Russianoff, a lawyer with the New York Public Interest Research Group.
Russianoff said that members of the majority conference do have the advantage of saying they "delivered" resources for the district, but that leaves them open to the criticism that they've voted to fund programs that often have to be paid for with a tax increase.
"It's all about who controls the agenda," Russianoff said. "When you're in the minority, it's easy to vote against whatever the admin wants if they're in the opposing party." He added, "Maltese in his long, storied career has had to vote for many tax increases because Senate Democrats were not just going to hand over their votes."