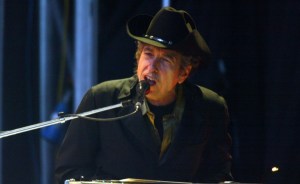 Another day, another online album release. But this time, from a somewhat surprising artist: Bob Dylan. His two-CD album Tell Tale Signs is the eighth volume in the fascinatingly uneven 17-year-old Bootleg Series; it will be available from midnight tomorrow (Spet. 30) through at least Oct. 7 on NPR Music. The latest compilation will also be streamed fully on National Public Radio.
PaidContent reports that the full-album debut is a first for NPR Music and should provide a traffic boost to the site.
You can get a preview of Bob Dylan's album here.