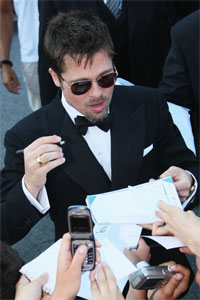 An up-and-coming writer named Brad Pitt has a piece on Vanity Fair's Web site in which he nominates Kenneth Roth, executive director of Human Rights Watch, to the magazine's "Hall of Fame." (Not, it should be noted, to the magazine's Best-Dressed List: International Hall of Fame.)
Mr. Pitt offers this bit of press criticism in citing Mr. Roth for the list:
At the heart of the group's effectiveness: meticulous field research, which creates an incontrovertible record of human-rights crimes, coupled with hardheaded advocacy. As The Village Voice noted, this is where the real investigative journalism of our times is getting done.
In October 2006, Mr. Pitt wrote Esquire's cover story about the drug war, green building, and the ultimate diaper-rash cream.