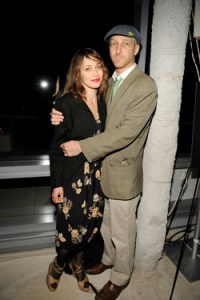 Brooke Geahan, the 20-something founder of the Accompanied Literary Society, has made a career of throwing scruffy readers and writers together with scenesters and socialites, and using the dim light of glamorous venues to make them look significantly more attractive than they might elsewhere. She was up to her old tricks on Wednesday, Sept. 25, when the Accompanied Literary Society threw a party in conjunction with Diesel, in the penthouse of a new luxury condominium in Tribeca called One York, at the intersection of Canal and Sixth Avenue.
The gathering was in honor of "Flash Fiction," a public art project of sorts in which 10 short stories—commissioned from authors such as Jonathan Ames, Colum McCann, Sloane Crosley, Jonathan Lethem, and Jay McInerney—were screened on the side of the building. Downstairs, there was a pseudo red carpet in the lobby with photographers snapping photos of arriving guests. Upstairs, Beatrice Inn DJ Matt Creed (former beau of Kirsten Dunst) was spinning Joy Division for the guests.
"I'm your dog. No one else can hear you sing," read a passage by Mr. McInerney. Bow-wow! It was displayed alongside a Diesel ad in which a blind-folded model with disheveled hair and denim overalls stood behind an antique camera.
Out on the balcony, James Sanders—"an architect and a writer and a filmmaker, I guess you could say" (he wrote the 17-and-a-half hour PBS documentary New York)—said Ms. Geahan is the "doyenne of the modern literary world."
Her talent, he said, lies in "making literary pursuits and cultural pursuits glamorous and exciting and social and all of that. It's a fine New York tradition which has gone a little bit through the cracks and Brooke's doing her best to recement it. As late as the eighties I think there was a scene, with Jay McInerney and that crowd. There was sort of an energy and an excitement and a feeling that you know, you had to read Bright Lights, Big City to know the city."
Is there a book like that now?
"Netherland," he offered after a moment, referring to the novel by Joseph O'Neill about a lonely Dutch financier struggling to "feel" in post-9/11 New York.
"The economic downturn is actually going to be good for us," explained David Shamoon, who organizes these parties for the ALS. Mr. Shamoon was under the impression that as the economy tanks, the city's fanciest penthouses and rooftops will suddenly become more affordable for hosting events for the society.
The Daily Transom wondered how the organization was able to score this space, which comprised of two rooms and a spacious outdoor rooftop area with tremendous views. ("It feels like a big boat," observed Interview magazine editor Chris Bollen.)
But it turned out the building management had welcomed the party. "It adds creative prestige, or something," Mr. Shamoon said.
But does it really?
"No, but don't tell them."
Over in the corner, Daily Transom found Mr. Ames with his girlfriend Fiona Apple, chatting with photographer Patrick McMullan.
"This is really fun," said Ms. Apple. "Everybody is really cheerful and I'm liking everybody that I'm meeting." But then Ms. Apple noticed that her boyfriend had a smirk on his face as he was listening to her talk.
"What? Why don't you talk then?" she exclaimed, cracking a smile herself.
"No, no. I like your quote!" said Mr. Ames somewhat mockingly, but then obliged and took over for his shy girlfriend.
"I like how the photographer Patrick McMullan just told us that this is like the apartment of a 21st century Gatsby," he said. "It's kind of interesting because Gatsby was right before Wall Street collapsed and this is like right before the total collapse.
"Brooke is actually a former student of mine and I'm very proud of her," Mr. Ames continued. "She got inspired to start the Accompanied Literary Society because she attended a very non-glamorous reading of mine at Barnes & Noble and that's what got her started. I thought it was glamorous enough, but I guess she didn't."
"She's got to start doing this for teachers next!" chimed in Ms. Apple.
"And community organizers! We need a party like this for community organizers!" added Mr. Ames, with apparent sarcasm.
Leaving those two to their corner, Daily Transom found Ms. Geahan on the dance floor in the adjoining room, twisting and tuning in a colorful, glittery mini-dress in front of Mr. Creed, with whom she was putting in a song request.
"It chose us," shouted Ms. Geahan over the music about the building. "They were building this penthouse and [publicist] Nadine Johnson said to me, 'You want a do literary event, it's all yours. To showcase literature in a public sphere, 10 stories tall, shows that we actually still believe in the written word," she continued. "I think that is the foundation of human knowledge and it needs to be celebrated."
Suddenly Ms. Geahan was distracted by a song that made her want to dance again.
"Dance with me!" she said to the Daily Transom. "C'mon, you're gorgeous, you should be dancing!"
Graciously declining Ms. Geahan's offer, we wondered if she might be bringing back the writing spaces that the society used to offer to its members when it first began. (One writer quipped earlier to us that while these parties are fun, he wished they would bring back the actual working spaces.)
"We're bringing it back in two months," replied Ms. Geahan.
As the evening drew to a close, Ms. Crosley and former Harper's editor and current Lapham's Quarterly editor Lewis Lapham were still mingling about on the balcony as a gaggle of young literary types—magazine editors, editorial assistants, an MFA student who is kind of dating Gary Shteyngart, etc.—headed for The Scratcher bar on Fifth Street, where maybe they felt more at home.
Some of the guests, on their way out, received a gift bag; inside, a copy of Dancer by Colum McCann and a 16-page brochure for One York.