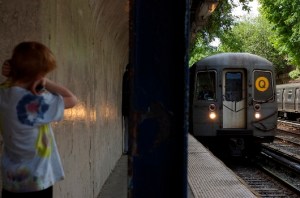 I love the Q train. O.K., I love the B, too, but it's the Q that's stolen my heart.
When I moved back to Brooklyn in January, the biggest factor in finding an apartment was its proximity to this train line, and especially to the 7th Avenue station (a nice change of pace after riding the G train for three years). It's just far enough into Brooklyn that I am in a quiet, residential neighborhood, but also only the third stop into the borough, easily depositing me anywhere I need to go in Manhattan.
Like the L train of the early '00s, the neighborhoods along the Q/B line have seen new crops of people popping out of its stations along a path rumbling through central and southern Brooklyn, from Downtown, Park Slope, Midwood and Ditmas Park, through Sheepshead Bay and, via an expert right turn, Brighton Beach and Coney Island. The Q line even has some of the same digitally enhanced trains that graced the L line a few years back.
"I was delighted to be looking at an apartment off the Q/B line as it provided quick service to all of the major destinations in my life," said Jennifer Rajotte, a special events coordinator for a nonprofit, of her move to Flatbush, off the Church Avenue stop, two years ago. "Both trains offer a quick ride to Atlantic-Pacific, where I can hook up with a ton of lines or quickly walk to the G or C, if I have to."
Not only is the Q/B line convenient, with a recent sighting by Page Six Magazine of Brooklyn celebrity darling Michelle Williams dining with new beau Spike Jonze at popular Ditmas Park eatery The Farm on Adderley (off the Cortelyou Q stop), the perception of southern Brooklyn seems to be getting a makeover.
DITMAS PARK HAS TRANSFORMED into a suburban-urban blend of creative-class types, beautiful buildings and low prices. According to brokerage Prudential Douglas Elliman and appraiser Miller Samuel, the median home sales price in southern Brooklyn in the second quarter of this year was $477,500, lower than any of the quadrants surveyed (PDF). Condo prices in this area rose 6.5 percent annually.
With Victorian-style architecture, detached houses (yes, actual houses!) and cute coffee shops, Ditmas Park has become the go-to neighborhood for a Park Slope-esque existence without the high prices and holier than thou attitude that comes with any gentrified area. And perhaps the nabes along the Q are stealing just a little bit of thunder from other creative hubs like Williamsburg.
"I've lived down here for five years – it's not Williamsburg but it's really quaint and quiet, so we like it, it is a bit grown up," said guitarist and Ditmas Park resident Bryce Dessner of the band The National when we spoke earlier this year about his band's newest record, Boxer. The National share a studio space in Ditmas Park with Brooklyn singer-songwriter Sufjan Stevens, a close friend of Mr. Dessner's who lives nearby and plays piano on a few tracks on Boxer.
Although the Straphangers Campaign rider survey on "Subway Shmutz" for 2007 found the Q to have the smallest share of clean cars on its line at 29 percent, the survey's profile of the Q rates pretty well overall. You are more likely to get a seat on the Q, which comes with above average regularity and cars on the line break down less often than any other line.
"I very briefly stayed off the F line in Brooklyn before moving to my current apartment," Ms. Rojotte said. "and I thank my lucky stars at least two to three times a week that it was an impermanent state! The Q, on the other hand, has frequent trains and rarely had service changes that were detrimental to my trip in the two years that I've used it on a daily basis."
It is tough switching up commuter routes once you've gotten used to your line over a period of years. "I think that when you live along one line for long enough–in my case, the F for three years–you become comfortable with its route and you want to maintain your commuting routine as much as possible," my friend Jordana Rothman, a writer for Time Out, told me after looking for a new place. She decided to remain where she was, in Park Slope on the F line. "It's hard enough to move."
TRANSPLANTS FROM OTHER PARTS of the city often aren't sure how their commute will work out once they've finally settled along the Q/B.
"I've always been a little scared of the Q," said Niger Miles, an old friend of mine who recently moved to the Parkside stop on the Q line from the 137th Street stop on the 1 train in Harlem. "It just seemed like it was too far in the alphabet to be a good train, really, but I actually do like the Q now that I take it.
"Taking the 1 train every day just pissed me off," he continued. "I like going over the [Manhattan] Bridge even if it's crowded because it calms me down."
Recently, my boyfriend Rhett, a Park Slope resident, and I took a late summer trip out to Coney Island, hopping on the southbound B, and returning on the northbound Q. Though the outdoor stations, beginning at Prospect Park, give the air of suburban commuter trains, that air is instantly quashed by the urbanity, density and culture represented along the route.
We wandered out of the refurbished station into a shuttered Astroland and mostly shuttered boardwalk. After some time spent on the beach, we grabbed at beer (or two) at Cha Cha's and were handed tickets to see the Cyclones play the Hudson Valley Renegades.
On the 20-minute ride home, I wondered if maybe Coney Island's impending makeover is the final tweak in the Q/B's quest to refurbish our beautiful borough.