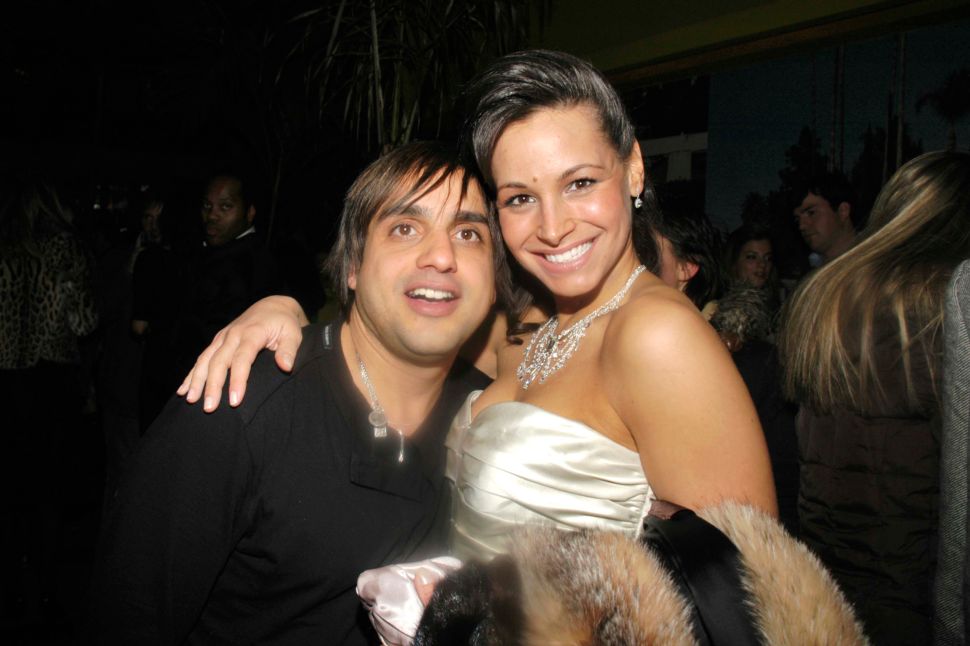 Giovanni Luciano got busted using his friend's credit card at the Manhattan nightclub Bungalow 8 in May 2007. He'd been passing himself off around town as an heir to Dolce & Gabbana. The Post dubbed him "Bungalow Thief." He got 2 to 4 years for grand larceny.
I wrote to him at the Greene Correctional Facility in Coxsackie, N.Y., two hours north of Manhattan.
He replied, handwritten in all caps: "I've been waiting for this day for a long time, to share 'my side' of the story … You see Spencer there's more to my nightlife than you know … I always thought I needed to write a book on how I came and conquered N.Y. Miami, LA … I never spoke about this to anyone because it will exploit me and I would lose my socialite cred."
Last Saturday afternoon I boarded a jam-packed van that leaves from Yankee Stadium and goes directly to Greene Correctional. It didn't help that I'd kept them waiting. I think my blue blazer was also working against me.
We arrived at the sprawling concrete structure at 4 p.m. You get frisked, then pass through electronically controlled doors and down a walkway lined with a chain-link fence and snarls of barbed wire, past guards and into a visiting area: A brightly lit white room with numbered tables, plastic chairs and vending machines.
Stock up on microwaveable chicken wings, take your seat and wait. Finally, Giovanni shuffled out. He's confined to his cell 23 hours a day. He told me his story—one that, like all tales told by men behind bars, was impossible to corroborate but that did, I had to admit, have the ring of truth in more than a few of its particulars. You be the judge.
Though he has assumed many identities, he said his real last name is indeed Luciano. He's 27. Growing up in Milan, he belonged to a family with money, he said, and he was spoiled. His older brother became a banker; his sister, he said, is a well-known fashion model. His parents, strict Roman Catholics, didn't approve of Giovanni's driving ambition "to live the rock 'n' roll lifestyle."
"I never really want to do anything," he said. "I just wanted to go to all the best parties, with all the hottest chicks."
When he was around 19, it seems the police were sniffing around some funny business Giovanni had gotten involved with; he says his arrest was imminent, and so his family arranged for a student visa. Hello, New York. His parents, he claims, own an apartment here on Central Park West. And it was waiting for him when he arrived in the spring of 2000.
His parents hoped he'd enroll in classes; they gave him an ample allowance and credit cards.
"As soon as I got to Manhattan, I began asking people where the hottest nightclubs were. Pangea and Serafina were the hot spots, and later it was Butter," he said. "I would go every night and watch the same guys go in and come out with the most beautiful girls. They wouldn't let me come in. Sometimes I would wait till 3 o'clock in the morning. And they wouldn't let me in because I was nobody."
On one of these long nights loitering outside the red ropes he befriended two French brothers as they were leaving the club. They shared a cigarette. He made up a story—that he was the nephew of designer Domenico Dolce, and an heir to the Dolce & Gabbana clothing empire.
"Something you have to understand, in order to be accepted by these kinds of people, you have to"—he made quotation marks with his fingers—'produce.'"
He persuaded the brothers to let him join their entourage to the next club. There, Giovanni began "producing," buying bottles for the table.
The Frenchmen introduced him to their friends, all of whom could get into the top clubs, and who, Giovanni claims, could be charmed by cocaine.
"If you have a lot of it," he said, "people will believe anything you say."
"No one questioned who I was," he continued. "You know: temptation, temptation, temptation." Before long, Giovanni says, he was hoovering spoonfuls of the Mighty White Samba at late night parties in Soho lofts.
Sitting up in Greene, it makes him sad that few people from his nightlife days remember him now. He may have done some scams, sure, but he also took care of a lot of bar tabs, paid for a lot of dinners at Cipriani—he loves Cipriani!
"No one has come to visit me," he said. "I have nobody."
He tugged at the collar of his green prison-issue jumpsuit. "This is not who I am," he said. "I'm in here with a bunch of animals. I'm used to nice dinners at Cipriani. Now I sit in my bed and I cry 'cause I miss that. That I can't go to a nice restaurant, and talk to nice people like you."
But wasn't he stealing from nice people like me?
"I wanted to be accepted. It wasn't to intentionally manipulate," he said. "The only reason I did some scams is because my parents cut off my credit cards, and I didn't want to live beneath them."
He didn't have a job, and would spend his afternoons at places like the Waldorf Astoria and the Four Seasons, any nice place where the bar opens at noon.
"So I'm there doing bumps in the bathroom," he said, a bit gleefully, "meeting so many CEOs and buying people drinks. Or I would be out all night and then at noon go to Nello all coked out and get a bottle of Champagne while all these quote-unquote power lunches are going on."
In February 2001, he says, his parents cut off his credit cards. The doorman at the Central Park West had told them about his weeklong benders. But by then he didn't need the credit cards so much. He used other people's. He claimed the scam goes like this: You troll the obits and find a guy your age. You have a friend who works at the Department of Social Security, and you give him this guy's name and date of birth. Once you've checked the dead guy's credit rating and made sure it's solid, your friend reactivates the social security number. Then you apply for credit cards. American Express Platinum is the best. If you can get your hands on one of those, you're looking at $50,000 to $70,000 before the cogs start to churn.
"Let me tell you, Spencer, how to become millionaire without having a dollar," he continued, drawing his face into another toothy smile. He paused.
"I wish we were at Cipriani's," he said again, thrusting his arms out, and pointing back at himself. Then he went on: "Say I swiped an A.T.M. card; how do I get his money out, he's an asshole," he said. "There's a toy. You can buy it at the toy store in Time Square. It's called an Etch A Sketch."
Break open an Etch A Sketch, he said, and pour the black powder into a bowl. You have a credit-card-swiping machine, which is connected to a phone line, which connects to the bank. You take your finger and dip it into the black powder, and then run that finger across the magnetic strip on the back of the card. Now you swipe the card. The machine spits back 10 digits. The four digits in the middle, sandwiched in between three on each side, will be the pin number. Ideally, it will be around 11:50 p.m. Take the card to an A.T.M. at a bodega, not a bank—no cameras. Withdraw as much as you can, usually $800. Smoke a cigarette. Wait till the clock strikes midnight. It's a new day! Withdraw another $800.
He said he would also occasionally simply steal someone's credit card and go on a spending spree or use the card number to book a treatment at a spa. They don't swipe the card until your full body treatment is through—at which point Giovanni is already out the door. Or quickly get a photo ID made with the cardholder's name on it. Then you can register at a hotel, where they don't bill the card until the end of your stay. In March 2001, Giovanni claims, he spent a week at the Chateau Marmont in L.A. that way. He hit L.A. clubs. He claims he spent a night on the couch at Paris Hilton's house in the Hollywood Hills.
"It actually stunk," he said. "She has like an animal kingdom in her house. I woke up and some kind of animal was taking a shit on the carpet." He thinks it was a lizard.
The next year, he was sitting in a suite at the Waldorf. A knock at the door. Room service. Surprise! It's the police. "They had me barehanded," he said.
The feds moved him all over: MCC, Oklahoma, Utah, then Nevada. In 2005, he was deported to Italy. 
He was back in his parents' house, sulking, pleading for forgiveness. It worked. In 2006 he dropped his bags at the Central Park West apartment.
"This time, from February '06 to May '07," he said, smiling broadly. "I was in it hard-core."
He ran up bar bills. He played the role of arrogant heir. At a party for Kate Moss on the roof of the Gramercy Hotel, he crossed paths with the actress Cameron Diaz. He told her that it was unfortunate that Justin Timberlake dumped her. She cursed him. He responded, "'you are nothing,'" he said. "'You are nothing but a peasant to me.'"
This time the fun ended when he tried to use someone else's credit card at Bungalow 8 in the spring of 2007.
As visiting hours drew to a close at Greene, he shook his head in disbelief. "If I was out now, I could get the same access. They all know me."