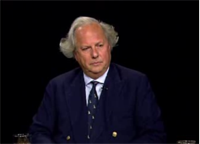 Last night, Charlie Rose welcomed Vanity Fair editor Graydon Carter to his PBS talk show to talk about his magazine's 25th anniversary issue and companion book.
After an extremely enthusiastic introduction (inside voice, please, Charlie!), the two cover a lot of ground from the journalism to art and photography to documentaries to his new baby to what movie is Condé Nast chairman Si Newhouse's all time favorite. (Is it D.O.A. or The Searchers?)
A self-deprecating Mr. Carter told Mr. Rose that he lacks a "core competence" and that his greatest accomplishment has been keeping his job at the magazine for the last sixteen and half years. He also hints at writing some sort of memoir one day.