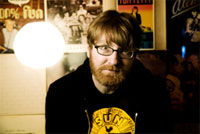 Yesterday on Salon, Sarah Hepola profiled writer Chuck Klosterman for the release of his first novel, Downtown Owl.
After hashing out Mr. Klosterman's rise from obscurity to admired and derided cultural critic, Ms. Hepola writes:
But Chuck Klosterman seems to be getting a little sick of Chuck Klosterman. Even his most distinguishing quality—his ability to ramble endlessly, but meaningfully, about the ephemera of American culture—is wearing on him these days. In his September 2008 column for Esquire, he writes, 'I find myself growing more and more depressed about all the things I used to love … It's not difficult to be the cop in the car watching the meth lab, but you will drive yourself sad. You'll find yourself thinking, Maybe the meth lab will blow up … But it doesn't blow up. It just sits there, falling apart and declining in value, while the people inside lose their teeth and get crazy high.'
He's no longer going to be writing his Esquire column, by the way.
Will readers really have to live without Mr. Klosterman's observations on everything from Snakes on a Plane to different lighting schemes used by television networks?
Only for a little while, according to Esquire Editor-in-Chief David Granger. Reached by Media Mob, Mr. Granger clarified:
The plan for Chuck is for him to resume his column in our February issue. He wanted to take some time off during his book tour. He and his editor are also thinking about how to reinvent the column when it returns.