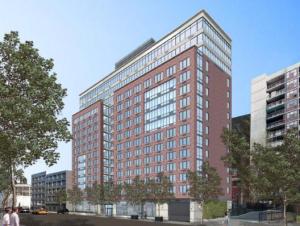 In late 2006, the Bloomberg administration announced an initiative to build new housing on the underutilized land (parking lots and such) of select city public housing projects. Vacant, publicly owned land is now in short supply, the city reasoned. So officials began to look to the NYCHA housing projects as a city-owned resource where space was aplenty, given the "tower in the park" construction that typified the apartment complexes, with large expanses of open space and sometimes parking lots.
Now, seeking to implement the plan in Hell's Kitchen, the city is clashing with the community and elected officials, who claim the city reneged on a promise to build middle- and moderate-income housing.
At NYCHA's Harborview Terrace housing project on West 55th Street, the city has selected Atlantic Development to build two buildings with a total of 342 apartments, with 148 low-income units, 72 middle- and moderate-rate, and 122 market-rate, according to numbers presented to the community board. The project first went before the City Planning Commission last week and is being reviewed.
But members of the community board and elected officials point to a city commitment to build moderate- and middle-income housing as part of the 2005 Hudson Yards rezoning, and they point to a pledge to use publicly owned sites including Harborview for that purpose. The new development at Harborview, the community board says, was supposed to be a mix of housing, with the majority being moderate- and middle-income.
Many incentives built into the rezoning create low-income units as part of larger new apartment buildings, but new middle-income units are in relatively short supply, the community says. Thus the community board says the project needs far more middle-income units, perhaps with more city subsidy if needed (the community board wrote a letter that was critical of the project earlier this summer).
"The market is producing low-income, using the 80/20 program," said Anna Levin, land-use co-chair of Community Board 4. "We want this to be an economically mixed community. We need levels of affordability for moderate- and middle-income people as well, because there are no tools to motivate the development [of that type of housing]."
Local Council Member Gale Brewer is backing the community board, and given that the project needs City Council approval, its fate is uncertain.
"I support the community board," Ms. Brewer said. "We always thought we would have middle-income housing, and maybe some low-income, and very little market [-rate].This is a great deal of market housing."
Seth Donlin, a spokesman for the city's department of Housing Preservation and Development, said the breakdown of units by income at Harborview reflects a need for the project to be financially feasible. (Low-income units tend to be easier to finance and incentivize given an array of government programs, whereas middle-income units tend to require more city subsidy.)
Further, Mr. Donlin said, the pledge to build moderate- and middle-income units is district wide, not specific to this site.
"The agreement was not made project by project–the agreement was made for the area that was rezoned," he said.