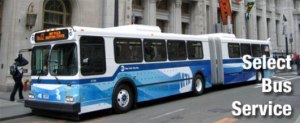 The city and the M.T.A. officially kicked off their "select bus service" on 34th Street today, a higher-speed service that sets bus-only lanes on the street, from First Avenue to 11th Avenue.
The initiative, which ultimately envisions a partition between the bus lanes and car lanes, has been highlighted as a way to increase capacity to the far West Side as the area develops. It is now illegal for most other vehicles to travel in the bus-only lanes, recently painted red.The state Legislature did not act on a bill pushed by the city that would have allowed cameras to ticket drivers who venture into the lanes illegally, so the enforcement is left to the police.
Buses on 34th Street are some of the slowest in the system, and the lanes with limited traffic would presumably increase speeds noticably.
The city established a similar system in the Bronx earlier this year; however, that route featured off-board fare collection, where passengers all can buy a ticket and rush onto the bus as opposed to waiting in line as each passenger inserts money or a Metrocard.
The initiative has been pushed by both M.T.A. chief Lee Sander and D.O.T. commissioner Janette Sadik-Khan, who have targeted First and Second Avenues for more routes.
Release below.
Commissioner Sadik-Khan, MTA Executive Director Sander Introduce 34th Street SBS Bus Lanes
Enforcement along high-visibility lanes today, aided by cameras to catch NYC Taxis that violate the lane, will help speed cross-town bus service
NYC Transportation Commissioner Janette Sadik-Khan and MTA Executive Director and CEO Elliot G. Sander today announced that NYC Transit buses have started using new, Select Bus Service (SBS) bus lanes recently installed along 34th Street from 1st to 11th Avenue in Manhattan-the first step in a series of bus-mobility improvements planned for 34th Street to improve cross-town bus speeds and reliability. The high-visibility lanes, which will be enforceable by the New York City Police Department from 7 a.m. to 7 p.m. weekdays, are part of a joint effort by the agencies to bring improved, SBS service to targeted corridors and areas citywide, and they are a critical component of the sustainable transit agenda called for in Mayor Michael Bloomberg's PlaNYC and in the DOT's strategic plan. In addition, the City is installing cameras at key locations to catch NYC Taxis using the lanes improperly and to issue rules violations to the medallion owners. About 30 bus lines use 34th Street, carrying about 17,000 local bus passengers and 14,000 express bus passengers daily, as well as a great number of private buses. Dan Biederman, president of the 34th Street Partnership, also attended the event.
"Cross-town buses are too often a punch line for slow, unreliable transit service, but today, we are saying that Select Bus Service now has the priority on 34th Street," Commissioner Sadik-Khan said. "Investing in our transit system is one of the best ways we can improve mobility in the City and to provide more effective service on our bus network."
"Just days after the double-decker bus returned to New York for the first time in a generation, this dedicated lane will help us build on the extraordinary success of Select Bus Service on Fordham Road in the Bronx," said Elliot G. Sander, MTA Executive Director and CEO. "While significant investment in bus service would once have been seen as a miracle on 34th Street, today the MTA has prioritized numerous innovations for our three million daily bus customers."
"Following our success with Select Bus Service along Fordham Road, the creation of the 34th Street bus-only lanes will mean a significant improvement in travel times in cross-town service along this corridor," said NYC Transit President Howard H. Roberts, Jr. "More than 30,000 bus customers will benefit each day from this joint effort to make bus transportation quicker and more efficient."
"We continue to be impressed by the vision shown by, and quick implementation of, projects aimed at improving pedestrian life in midtown Manhattan of NYC Department of Transportation," said Dan Biederman, executive director of the 34th Street Partnership. "We believe that setting aside the curb lane for buses on 34th Street will work, and will speed the flow of bus traffic, helping many New Yorkers get to work faster."
A major transit corridor, 34th Street is used by the following bus lines along all or portions of the nearly two-mile street: M4, M16, M34, Q32, BM5, QM1, QM1A, QM2, QM2A, QM3, QM4, QM10, QM11,QM12, QM15, QM16, QM17, QM18, QM21, QM22, QM23, QM24, X22, X23 X24, X31, X51, X63, X64, X68.
34th Street was restriped this summer from six lanes to five, with the two curbside lanes wide enough to accommodate buses painted bright terra cotta, and overhead gantry signs are being installed over the lane, clearly marking the lane for exclusive bus use. Non-transit vehicles in the bus lanes which are not making right turns will be subject to citation by police.
Starting next month, a turn-signal priority system will be installed at 34th Street and 7th Avenue, which will give the M4 and Q32 buses priority in turning left onto southbound 7th Avenue, with a brief, exclusive signal. In addition, a "soft barrier"-perhaps dots-will be tested along the corridor, providing a visual and physical deterrent to vehicles improperly entering the lane. The long-term plan for 34th Street also calls for a transitway to be built from the West Side Highway to the FDR Drive, with protected bus lanes kept entirely separate from other traffic. Between 5th and 6th Avenue, the street will be closed entirely to non-transit vehicles and building a pedestrian plaza. As part of that plan, all non-bus traffic will be modified to one-way west from 6th Avenue to 11th Avenue, and one-way east from Fifth Avenue to 1st Avenue. An overview of the plan is available at nyc.gov/dot.
This fall, DOT will begin a six-month pilot program in which video technology will be used along three locations on 34th Street to show evidence if taxis are violating Taxi and Limousine Commission (TLC) rules that all traffic laws be observed, by violating bus lane rules. Taxis are permitted to enter a bus lane only to make the next right turn or to expeditiously pick-up/drop-off passengers. To show a
violation, DOT will submit video to TLC showing the evidence, along with an affidavit from the video reviewer. TLC will then use the video to prosecute a rules violation against the taxi medallion owner in front of their administrative law judges. The cameras will also be used to identify official city government cars that violate bus lanes. DOT will be able to move the cameras to other parts of 34th during the trial and will be able to gather general data on what types of vehicles are violating the bus lanes rules.
Announced by the agencies and Mayor Bloomberg in March, SBS was inaugurated on Fordham Road in the Bronx in June, with other enhanced bus corridors and locations announced for each borough. The new Fordham Road service has already resulted in a 14 to 24% improvement in trip times on the Bx12 line, with high-visibility bus lanes aided by off-board fare collection and Transit Signal Priority. DOT and MTA/NYC Transit intend to open SBS service on 1st and 2nd Avenue in early 2010, followed by a corridor on Nostrand Avenue in Brooklyn to come online in 2011.