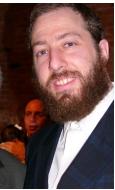 Hillary Clinton canceled her appearance at a rally in New York City next week after learning from reporters that Sarah Palin is also scheduled to also attend. The event, organized by a number of Jewish organizations, is aimed at criticizing the Iranian government.
Clinton's decision leaving organizers scrambling. Michael Miller, executive vice president and C.E.O. of the Jewish Community Relations Council declined to speak with me about the now Clinton-less event, and said I should get my hands on another one of his emails for an update.
Ezra Friedlander, an Orthodox Jew and C.E.O. of the Brooklyn-based public relations firm The Friedlander Group, was more forthcoming.
"It's not political, it's not partisan. It's moral to attend a rally that is going to bring together Americans, New Yorkers, and candidates running for public office, to express our outrage and to denounce [Mahmoud] Ahmadinejad and the regime in Tehran," Friedlander told me.
He added, "If you're concerned about the world getting blown up by a rogue terrorist nation, this is a rally to attend."