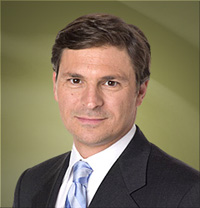 Any Penguin editors out there still need a book about the Wall Street crisis? Because Media Mob has learned of another one going on the market soon, this time from CNBC's David Faber. The book will be published before the end of the year, according to someone with firsthand knowledge of the project, a feat possible only because Mr. Faber has been working on a documentary for CNBC about the origins of the credit crisis and thus has all of his reporting—something like a hundred hours of interviews total, we're told—already in the can.
Literary agent Scott Waxman will shop Mr. Faber's book to publishers.
"David obviously brings the television platform, which will be very helpful in selling the book," Mr. Waxman told Media Mob when reached for comment. "He's been one of the premiere financial reporters on this story from the beginning, and has a unique perspective on the big picture."
Assuming Mr. Faber succeeds in finding a publisher, his book has a good chance of being the first of many forthcoming books on the financial crisis to hit stores. The only other reporter that we know of who's going to try to have something ready by the end of the year is Newsweek's Dan Gross, who is aiming to finish (and find a publisher for) an e-book on what's been happening within the next few months.