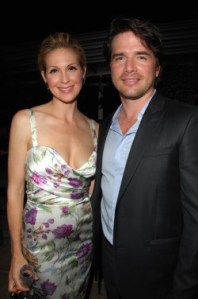 If Gossip Girl didn't exist, it—or rather, She—would have to be invented. With barbarians at the crossings and cultural turpitude rotting the very Manhattan schist beneath our feet, She alone upholds Truth and Beauty and Order. In the postlapsarian moral universe of today's New York, God, and Wharton and Fitzgerald and Bradshaw, are dead; long live Gossip Girl.
Does this city deserve a muse and creator who imagines it better, stronger, nobler than it's been in untold generations, or ever? Unveiled last autumn, the first episode of the series opened with the return of Serena van der Woodsen—the once and future dauphine of Park Avenue; her surname, a plaintive lament for the town's old Dutch aristocracy, long ago suppressed by the arrival of vulgar Britons—after a semester abroad at a New England boarding school. She spilled regally down the steps inside Grand Central Terminal: a Beaux Arts ingénue for a Beaux Arts cosmopolis. What a tragedy that this image was but the first of Gossip Girl's taunting flatteries! The New York Central Railroad ceased to be in 1968, of course, and its gleaming jewel transformed into a lowly commuter hub; interregional train service these days means Amtrak, which means any real Serena van der Woodsen would have arrived at the rathole where Pennsylvania Station once stood, that crusty scab formed of self-mutilation.
Season 2 debuted this Monday by tinkering similarly, if less successfully—more conspicuously—with the sad vicissitudes of space and time. Over the course of an exhilarating Eisensteinian montage, we learned that Dan Humphrey—the sweet, sad literary boy from Brooklyn; the archetype for 380 years of émigré strivers—had indeed achieved some measure of summer success in the world of Manhattan letters (a story in the Paris Review!). Yet this turn of events only served to underscore the hazy, vaguely postcolonial malaise any real Dan Humphrey would sense here: All our writers of any real import have been dispatched to the same Brooklyn they were always meant to escape; for a Very Special Guest Star from the metropole to mentor young Humphrey, the producers were forced to turn to … Jay McInerney.
All of which goes some ways to explaining what three to four scores of people were doing on the Empire Hotel's rooftop bar Wednesday night. Plasma televisions, paid for by Christian Dior, ran a soundless loop of that second season premiere—the cameo by Vitamin Water! the product placement by Tinsley Mortimer!—and from the altitude, with a drink and a squint, the civilization below could almost resemble the one on screen.
One difference: bouncers in the Empire lobby close-read IDs before allowing the typically nubile attendees upstairs. And yet there she was, Taylor Momsen (Jenny Humphrey), she of the dead-eye stare and very public 15 years, mugging for photos with a DJ that looked, and DJed, like a model. A flash of jean jacket, a wave of sundress, and she was gone. Freight elevator, perhaps?
As has often been the case over a week in which variably "official" Gossip Girl premiere parties have descended, like benevolent locusts, on our streets, the putative stars of the show were nowhere to be found. Leighton Meester (Blair Waldorf) apparently attended the Entourage premiere across town instead. Philistine! But, of course, Matthew Settle (Rufus Humphrey) and Kelly Rutherford (Lily van der Woodsen) were there, because even though they play parents on television, they still know how to … well, what, exactly?
"I'm wearing all Dior tonight," Mr. Settle was heard saying. "It fits like it was sculpted on me. Dior is the epitome of sartorial excellence."
Never is the ethic of Gossip Girl more tragically missed than in the civilian presence of a Gossip Girl actor. To learn they are concerned about the fit of clothing, that they feel it necessary to stipulate "sartorial" when speaking of excellence, is to recognize that the world in plasma may be lost forever.
This is the sort of recognition that makes the head spin, and the limbs quake on a hotel rooftop—hey, is that the Black Girl who's not allowed to speak over there?—the sort that drives one to grasp at anything resembling the real, which is to say, the exalted, the fantastic, the Past.
Oh hi, Debbie Branch.
Weathered, wizened, wistful, Ms. Branch sat alone nursing a drink, looking so unlikely in this crowd that she must have been the center of it. Dior sends her e-mails about parties, she explained, and sometimes she attends. She took part in this year's Whitney Biennial and has performed a piece called "What's Left of Home?" on NPR. She's recently done some photography for Page Six, and, long ago, even The Observer. She was just at a party for Lou Reed.
How do these Gossip Girl kids compare?
"Oh, you know these kids keep coming to Chelsea chasing Basquiat. Well, I was with Basquiat, and even Warhol, and let me tell you, if you want to be an artist you should be anywhere else but New York.
"The kids like the Patti Smiths, these Lou Reeds, the David Byrnes, they came here and made millions and ruined it for everyone after. … For people like us, you know, born between 1960 and '67, David Byrne ruined grants in this city.
"I do like Allen Ginsberg, though."
When she was 15, Ms. Branch ran away with the E Street Band on its first European tour.
"I was a black girl in Brooklyn. So the question was 'Did you want to stay and be raped on your street, or go and follow Springsteen?'"
Back then, Springsteen stocked his act with virtuosic black and Latino session musicians from what Ms. Branch called "nigger bands." Then he got big and they were replaced; the last worthwhile album was The Wild, the Innocent & the E Street Shuffle.
"Oh please. Max Weinberg? Everyone knows Max Weinberg is the worst drummer in the history of rock and roll."
Not long ago, Ms. Branch ran into Bob Dylan at a W Hotel.
"With his new stuff, he appears to be lost."
Lost, like a city of adults transfixed by Gossip Girl?
"I love New York, but it's become impossible to do anything here. I was here when Harlem was Harlem—black Harlem."
"You look at the people who've made the millions… Like Lou Reed, we even got Lou Reed to use African-American girl groups."
Later: "But Robert Mapplethorpe? I hate Robert Mapplethorpe. They caught him once with a naked 6-year-old with a bullwhip up his ass, and he said it was art and got all the grants.
Let me ask you, if you were 6 years old, would you want a bullwhip up your ass?"
The Daily Transom thought about this, and the question was oddly brightening. Perhaps Gossip Girl had been sent for a reason, a phenomenon but also a chance at redemption.
"I don't know whether it's good to be considered a gossip girl," Debbie Branch said. "Some gossip is good and some is bad. But I'm looking around here and I'm seeing a lot of people who don't look like they were born yesterday. Of course, I'm also seeing a lot people who were born yesterday."
She laughed, heartily.
Some minutes later, a boy calling himself Bobby from Los Angeles, with a Mohawk and tweed suit and a girlfriend-who-plays-a-socialite-isn't-that-rad?-on-an-upcoming-episode, asked the Daily Transom to watch his mini-hamburger because he needed to go pee.