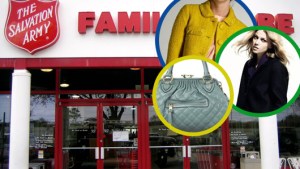 Usually at this time of year, there is a little flutter of excitement as one confronts one's closet: all those layers and accessories necessitated by the slight snap in the air; the contemplation of the long party season begetting a kind of dream shopping space that doesn't end till January. But in fall 2008?
"You're going to be a little more sensible with how you use your money," said the model Helena Christensen—hello, understatement!—at a glitzy West Chelsea auction benefiting Food Bank for New York City, several days after the implosion of Lehman Brothers.
Clad in a timeless black Stella Mc-Cartney gown, Ms. Christensen suggested saving cash "for the things that you really, really need in your life."
As the Dow jigs and jags into alarming mountain peaks and valleys, fashionable New Yorkers of all stripes are considering what, exactly, those things are. Shopping as sport—collecting one $1,500, gilt-strapped It bag in three colors, for example—is suddenly seeming very 2007 (the year Lloyd Blankfein of Goldman Sachs made $67.9 million). Nowadays, shopping is an activity to be undertaken cautiously, solemnly, with an eye toward the future.
Also the past: Socialite and designer Celerie Kemble, arriving at the Food Bank event with baby girl Zinnia in tow, is one of many turning back to vintage. "It's scary," she said, of the current economic climate. "I think everybody's going to take a greater pause before they do something indulgent."
Suddenly, Zinnia grabbed a patent-leather purse strap belonging to a passerby and stuffed it in her mouth. "Or we can just start stealing!" Ms. Kemble cried.
"It might be worth it to spend a little more money on a blazer, which we've been seeing a lot of girls at the shows wearing, because it's something that doesn't age," suggested Nicole Phelps, an editor at Style.com who admits a Gap habit. "Whereas if you're thinking about a jumpsuit or a droopy crotch pant, that will seem very 2009 a few years later."
Indeed, might droopy crotch pants, while a continuing phenomenon on the spring 2009 runways, be the first trend casualty of the recession? Are they destined to wilt ignominiously on the racks, the victims of a moment when New York women began reconsidering their masstige-enabled seasonal wardrobe overhauls in favor of … well, restraint?
"Excessive shopping is out," said Julie Gilhart, fashion director at Barneys. "There is way too much going on in the world right now to have to take the time to think about clothes."
It's "a seismic shift," said Anya Hindmarch, the handbag designer famous for her canvas "I'm Not a Plastic Bag," which started the Great Eco-tote Madness of 2007. "It's a bit like the feeling of your parents breaking up when banks fail. It makes you feel insecure. A 9/11 feeling—everything dramatic and scary."
BACK TO THE BASEMENT
The queasy-making economy has already affected fashion in subtle ways. For example, the long-held idea that one should never be photographed twice in the same dress? "Lame," declared socialite and estate jewelry executive Fabiola Beracasa. Wearing the same thing repeatedly now has a sacrificial, "we're all in this together" feel to it, like filling your coffee mug with the office-kitchen sludge instead of making another $6 latte run to Starbucks. Even Vogue editor Anna Wintour is on board, having worn the same turquoise Oscar de la Renta dress to no fewer than four public events this summer, as previously noted by The Observer.
At a recent party celebrating a Christie's auction of clothing from decades long past, the towering blond reality-show star Mary Alice Stephenson was wearing a gold gown by Christian Dior. "It's a dress that I spent a lot of money on, and I wore it on the Academy Awards red carpet," she said. "I wore it to a wedding, and now I'm wearing it here! Clothes that are made well and with the right fabrics, and are luxurious, last forever."
Ms. Beracasa suggested repurposing a summer dress, wearing a sweater under it, "with tights, belting it, making it appropriate for fall," rather than rushing out to buy a new frock.
"Friends that I see on a daily or weekly basis, they'll see me in the same thing over and over again, and maybe I'll change the shirt or the scarf or the shoe," said stylist and gal-about-town Kate Schelter. She also copped to scouring the Barneys rack at Filene's Basement. (Speaking of discount fashion: over at Century 21, which offers designer clothing at 40 to 70 percent markdowns, Jeff Jasner, executive director of operations, said the store had "seen an increase against last years' sales, significant, across the board," and experienced virtually no slowdown in business since the recent Wall Street seizures.)
Eric Hertz, director of executive education at the Fashion Institute of Technology, compared the current mood of moderation to that immediately following the stock market crash of 1987. "Once again, clothing becomes more of a staple," he said. "It's kind of a replenishment buy, less an impulse buy … I don't think anybody finds going to the store now entertaining. Going to the store now is worry. 'How much is this going to cost me and can I afford it? How many of these do I really need, and where can I get it at a more affordable price?'"  
A $100 GOYARD BAG?
Some scoffed at the idea that shopping in New York has at all become a chastised affair. After all, materialism is practically our duty as dwellers of this glittering city. "I do not anticipate the tax crisis facing Americans will keep New Yorkers, myself (sheepishly) included, from normal, frivolous spending," e-mailed Chelsea resident Kate Delgado, 25, who works at the New York Botanical Garden. "We live in a bubble somewhere off the coast of America. What mortgage crisis? The people who move here, they're not into austerity. If they were, they'd get their ass to Buffalo or Philly."