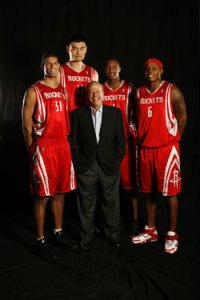 Superior Ink, Robert A. M. Stern's new brick-and-stone, townhouse-and-apartment development on West 12th Street (one of the gaggle of buildings he's designed for the Related Companies, the group controlled by Miami Dolphins co-owner Steve Ross) hasn't been the same kind of absurdly walloping multibillion-dollar triumph as 15 Central Park West, another Stern-designed trophy.
But it hasn't done badly. A source told The Observer Monday that a top-floor sprawl is in contract to sell to Houston Rockets owner Leslie Alexander, a New Jersey-bred, N.Y.U.-educated investor. Mr. Alexander—who's a vegetarian and animal rights activist (Rockets dancers have been seen in "Animals Have Rights" shirts; animal-shaped piñatas have been banned from Rockets promotions)—will be paying somewhere around $25 million.
Did Mr. Ross (No. 369 on last year's Forbes billionaires list) and Mr. Alexander (No. 664) meet in an underground lair where ultra-rich sports owners trade real estate and athletes' contracts back and forth while sitting in oversize recliners with cup holders and those built-in, mall-quality massages? (Superior Ink itself doesn't have masseuse chairs, though there's an entertainment lounge, a private screening room, 24-hour on-premises valet parking and a fitness center with a "Pilates/Yoga Room," according to the condo's Web site.)
As it happens, out-of-town sports moguls who buy plush New York sprawls here don't always stay. According to a deed filed late last week, Philadelphia Flyers and 76ers owner Ed Snider just sold his 36th-floor apartment at 15 Central Park West for $12.4 million, three weeks and three days after he bought it for only $7.34 million. The buyer, who may or may not know about that $5.06 million premium, was listed anonymously as BMRD Properties, LLC.
mabelson@observer.com