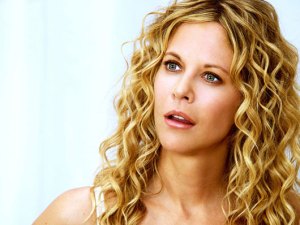 In the upcoming film The Women, a remake of the 1939 George Cukor classic that's been re-imagined by writer-director Diane English, Meg Ryan's hair could be billed as a supporting character to its gaggle of stars: Annette Bening, Cloris Leachman, Debra Messing, Jada Pinkett Smith, Candice Bergen, Eva Mendes and, of course, Ms. Ryan. When we meet her character, Mary, she's a kind of superhero suburban mom—stretched violin-string-thin between charitable committees, parenting and grouting her bathroom floor—and The Hair is long and exceedingly ringlety. In classic Meg Ryan fashion, Mary flits charmingly if exhaustedly between her myriad responsibilities, The Hair showing the kinetic energy she's expended in contrast to her best friend, Sylvia (Ms. Bening), a high-powered magazine editor, who sports a perfectly smooth and polished coif. By the end of the film, after Ms. Ryan's character has had to go through the obligatory soul-searching with a montage of pulling-her-life-back-together moments, she emerges with The Hair sleek and straight. And we know: Hey, she's O.K.!
It's an easy visual trick from Hollywoodland: a few adjustments in wardrobe, makeup and, most important, hair, and, voilà! Life's good! Or, at least, getting better. Call it the The Princess Diaries effect, a film that seven years later still causes outrage—remember the first thing done to transform Anne Hathaway into appropriate-looking royalty? But why, many naturally curly-headed gals might be forgiven for wondering, does frizzled always equal frazzled? And how come a third-act makeover always seems to involve a flatiron?
"Meg and I talked about Mary, and the kind of differences between the original film—which was very cosmopolitan—and this one. Meg felt that Mary should be very earthy," said Jonathan Hanousek, a celebrity stylist who was in charge of Ms. Ryan's locks throughout the filming of The Women. "She wanted the sense that her appearance was not something she lingered on, and that her focus was devoted to her life and her daughter."
Well, O.K., but as anyone who's had to wake up with a tangled nest of curls could tell you, those gorgeous Botticelli tresses Ms. Ryan sports for the majority of the movie would certainly not have come easy. ("There was some time involved," Mr. Hanousek admitted.) And besides, since when does having curly hair make one earthy? Neither have we found in our unscientific gatherings that curly hair necessarily translates to being unconcerned about one's appearance, or more romantic, wild, creative, or crazy and lusty. (Oh, Glenn Close, your fine performance in 1987's Fatal Attraction set back more than the 30-something single woman. Did you think about us naturally curly girls?)
"It's all about being groomed and in control, isn't it," said Kerry Warn, a veteran movie hair designer who has worked repeatedly with Nicole Kidman (who sadly has never returned to the glorious, counterintuitive head of spirals from her Dead Calm and Days of Thunder era), and recently designed the coiffures of all the actors on the upcoming Baz Luhrman film Australia. "What you see and perceive is many times unspoken," he said, pointing out that by quickly using visual clues—like curly hair—an audience is able to make all sorts of quick inferences about who a person is and what they're all about.
Mr. Hanousek said that he has many female friends with curly hair and that he thought it was the "ultimate in confidence and strength. I don't perceive those women to be frazzled." And yet, when it came time to make Meg's character emerge triumphant from the fray, straight her hair went. "We had to show the passing of time," he explained, pointing out that Ms. Ryan's wardrobe also became sleeker. "It was just to signify that she had gotten her life under control." Of course, a wrinkled shirt and curly hair shouldn't necessarily give off the same impression (trust us, even if our shirt is perfectly ironed, our hair retains the same amount of wave.). So, chicken or egg: Is pop culture a mirror for our society's straight-ist attitude toward hair, or is it helping to perpetuate it?
"I THINK IT'S an important issue. We're bordering the line of almost becoming a myth that if you have straight hair you are more professional or appear to be more professional, and that's truly not the case," said Ouidad, a pioneer in the pro-curly-hair movement since 1984, author of Curl Talk, and owner of the tony 57th street eponymous salon. She believes that straightening or smoothing out the hair is a way of erasing individual personality, and for examples pointed to news-channel talking heads ("[straight hair] doesn't allow for any distraction except to listen to the information"), and more recently last week's Democratic National Convention, when Barack Obama officially accepted the nomination for the presidency. "Michelle [Obama] has been wearing her hair with a wave, and her and her oldest daughter had their hair totally ironed out," said Ouidad. "They wanted to blend. It's to be accepted and not stick out."