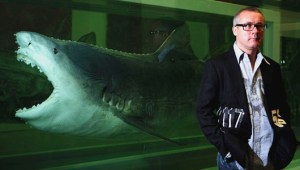 In June, we told you about a Sotheby's auction planned for this month of works by the contemporary British artist Damien Hirst, he of the formaldehyde shark and diamond-encrusted skull fame. The London-based auction, which begins on Sept. 15, has been hyped not only for the astronomical prices people are expected to pay for the 43-year-old artist's more than 220 new (and absurd) pieces—the aforementioned skull sold for $100 million in 2007—but also for the very nature of how they are going to be sold. As Reuters reports today, this will be the first sale of its kind by a major artist (Galleries and art dealers are the norm when it comes to this sort of thing), and it has the potential to bank him as much as $116 million.
Naturally, there has been some skepticism—picture Mr. Hirst with formaldehyde-soaked, diamond-studded dollar signs for eyeballs—over his decision to go to auction. But as he explained to Reuters during the newswire's recent press preview of the collection, there's a good reason behind it: Mr. Hirst is punk.
"I like risk and craziness and people saying 'Oh my God', and I think that you get a lot of that, you know. I'm a punk at heart. I was too young to be a punk, I think I was 12 in '77, so I think I've waited until now really to do all that stuff."
So rebellious! But also, there's this:
"I think the world is changing, you know, I mean I was approached by the auction house, when it wasn't my idea," said Hirst, surrounded by works that include his trademark animals in formaldehyde, spin and butterfly paintings and variations on the pill cabinets.
"The commercial aspects of art and all the money side of things makes the art feel very much alive for me, so (it) just makes sense to go in there," he added.
And then, of course, the altruistic reasoning:
If the sale does raise tens of millions of pounds, at a time when the art market is booming despite economic gloom elsewhere, it could help attract more people to art, he argued.
"I mean, what's great about the money is that if it does raise a lot of money, then a lot of people who aren't interested in art … sit up and notice, which can only be a good thing."