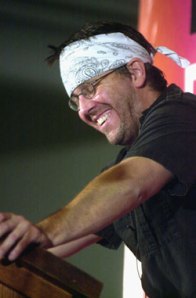 "People are asking us, 'Is there anything unpublished? Is there anything sitting in a drawer?' But David was very fortunate, in that everything he wrote got published and published well." Bonnie Nadell, the literary agent who found David Foster Wallace's first novel in a slush pile 23 years ago, was speaking from her office in San Francisco. It was within the first few months of her job as a junior agent at a firm there that she came across the first chapter of The Broom of the System, the novel Wallace wrote while an M.F.A. student at the University of Arizona. Before long she sold it to Gerry Howard at Penguin; she remained Wallace's agent until his death last Friday.
Now she is his literary executor, and though it is still too early to think about publishing any posthumous material, the existence of two short works of fiction said to be part of something longer that Wallace was working on—"Good People," from the Feb. '07 issue of The New Yorker, and "The Compliance Branch," from a recent Harper's—does provoke an overpowering curiosity.
"Have I read the larger thing? No. And I don't think anyone's gonna read it," Ms. Nadell said Monday night. "Certainly, his wife is too distraught, and I have not gone through any of his papers. … I don't know what there is and what there isn't."
She added that while some writers are very open about what they're up to and eager to discuss their works in progress, Wallace was not among them.
Little, Brown publisher Michael Pietsch, who was Wallace's friend and editor starting with 1996's Infinite Jest, said he did not see the draft, either, but noted that Wallace did once mention to him that he was working on "something long."
"When we put together the 10th anniversary for Infinite Jest two years ago, we had an event in New York and an event in Los Angeles, and I talked with him about whether he would like to come be part of them," Mr. Pietsch said. "I was not surprised to hear that he was wary of that idea. 'I'll do anything you want me to do,' he said, 'but please don't ask me to do this, please, please, please. I'm working on something long and it takes me a long time to get back into it after I'm pulled away from it.'"
Wallace actually read part of the work, a version of the Harper's excerpt, out loud once at a literary festival, telling the audience that it was part of "something longer that isn't even close to halfway finished yet."
Even if that work, whatever it is, never sees the light of day, there are those who believe there might be a treasure trove of unpublished materials elsewhere. 
Gerry Howard, the editor who acquired The Broom of the System, said he has heard that something like 10 of Wallace's Amherst classmates had the then-budding author write their senior theses for them.
"I think it's one of those open-secret kind of things," Mr. Howard said. "The thing you have to understand about David is that he was the most facile—and I don't mean that in a bad sense—the most facile writer since, I don't know, Dickens…. It might be apocryphal, but I don't think so. David could have knocked off the average undergraduate A paper on anything in a half an hour. That's why the story has always had the ring of truth to me and also because he was very generous."
Consider this a call for submissions.
lneyfakh@observer.com