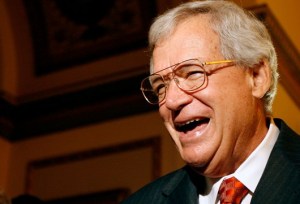 ST. PAUL—Earlier today, we saw former U.S. House Speaker Dennis Hastert speak at a luncheon on housing issues put on by the celebrity/artist advocacy group Creative Coalition, where the one-time wrestling coach sung the praises of green buildings and green architects.
Responding to an architect who asked him about his profession's role in creating affordable, sustainable communities, Mr. Hastert said, "the world of architecture is at the crux of this coalition."
"Architects," he said, "can use and develop housing stock, buildings … that increase the efficiency of whatever energy used almost by 90 percent."
The Creative Coalition, which advocates for celebrities and artists and connects them with discussion of policy issues, held the luncheon today with the National Apartment Association, an advocacy group for rental housing.
So why have a hearing with a former conservative Republican leader and a celebrity group?
To help put the spotlight on apartment-dwellers, particularly as the "creative class" flocks into cities nationwide, often living in rental apartments, as opposed to private homes, according to Douglas Culkin, the National Apartment Association's president.
"There's 85 million people who live in apartments around the U.S., and unfortunately those folks don't come in to the equation when hosing policy is legislated," Mr. Culkin said. "In order to have a successful housing market in the U.S., you need both an ownership market and a vibrant rental market."
Mr. Hastert was a bit greener than many of his Republican colleagues in the House, and took a job earlier this year as a consultant to a company that pushes low-energy light bulbs.