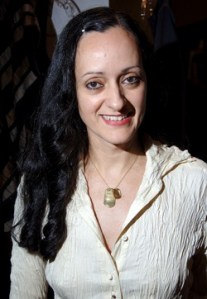 "You can imagine, I'm so proud, really proud of my wife. She's a brave, brave, incredible, talented woman. Very generous, and very sincere about her work, and I love that."
This was Ruben Toledo, ebullient, mustached illustrator and doting husband, at a luncheon Wednesday honoring his wife, fashion designer Isabel Toledo, at the Rainbow Room at Rockefeller Center. The room was stuffed with sponsors, fashion luminaries and members of the Couture Council of the Museum at FIT, presenter of the award, many of whom wore Ms. Toledo's intricate, expensive designs with creative hats and footwear as they sipped bellinis.
"This is like a retrospective!" said Ms. Toledo, clad in a black, poufy-sleeved jacket. "Everybody's wearing vintage Isabel! Not everybody, but a lot of people are."
"I love the energy, I'm feeding on that right now," she continued. "It's like back to school, we're all here!" She ceased putting on actual runway shows 10 years ago but has spent past Fashion Weeks attending shows of friends like Narciso Rodriguez ("We'll relax!" said Mr. Toledo of their plans).
At lunch, the Toledos, high-school sweethearts of Cuban descent, presided over separate but adjacent tables, where their chairs were close enough for Mr. Toledo to pat his wife's shoulder throughout the meal ("We should all be so lucky," whispered the Daily Transom's table-mate). A drag queen performed a cabaret homage to Ms. Toledo—"Isabel, you've chaaaaanged!"—which featured the word "motherfucker." Then Emcee Simon Doonan, of Barney's and this newspaper, narrated a slideshow of Ms. Toledo's life, from "the Cuban Revolution to this incredibly un-Communist luncheon."
Any confusion as to the political bent of the crowd was settled when Mr. Doonan introduced pictures of Ms. Toledo meeting Laura Bush (near silence) and Michelle Obama (loud cheers!), the latter of whom he called "a longtime fan."
Harper's Bazaar editor Glenda Bailey was listed as a speaker in the program but seemed stunned to be introduced. "This is a surprise!" she said, alighting to the podium. And then: "I'm not totally sure what to do next…" She called hastily for the next speaker and rushed back to her table.
Vogue's Andre Leon Talley, clad in uncharacteristically conservative gray suit, presented Ms. Toledo's award.
"If you don't have finance, you have people power," said the teary designer, thanking her crowd of admirers. And: "I've never thanked Ruben in public… And I can't. Thank you."