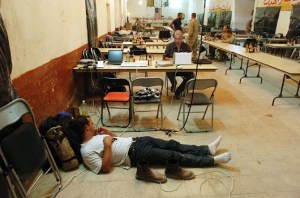 By Hillary Frey
Dexter Filkins is a runner. During his three and a half years in Iraq, he'd regularly lace up his shoes, don his short shorts and stride along the Tigris River even in unbearable, 100-degree-plus heat. At first it was a simple, there-and-back, five-mile course, past waving children and friendly folks, past a field of green the Americans had laid by the riverbank as part of a park project. Then his path was truncated by a checkpoint, then by another, until finally his run was a short sprint distance that he'd repeat enough times to make his mileage. Over time, a pack of dogs that had taken over the park got together to bark and howl as he, quite possibly their only human visitor, ran past. The checkpoint guards—once so friendly they'd bought him an Iraqi soccer uniform—came to eye him with indifference or worse. These were new guards, and they weren't interested in goodwill gestures.
By Leon Neyfakh
When he left Iraq in August 2006, Dexter Filkins didn't expect to return anytime soon. He'd been there, reporting for The New York Times, since the U.S. invaded three years earlier. Before that he was in Afghanistan, covering a different war. He'd filled 561 notebooks over the course of his years in the Middle East, and that felt like enough: As he put it last week in an interview with The Observer, he was pretty wiped out.
He said this over the phone, speaking from The Times' Baghdad bureau. He'd been there a month. The city was calmer than it was when he'd left it two years before, he said, and it felt good to be back.