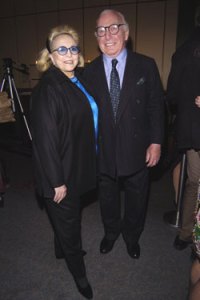 It would take tightly shut eyes and a gargantuan leap of faith to not be at least slightly panicked about the tiptop of New York City's high-end real estate. Lawsuits over record-breaking condos at the Plaza are flying back and forth; star townhouses are languishing on the market; and brokers who barely six months ago wondered aloud when we'd be seeing $100 million deals are quietly complaining about having to sing lullabies to angst-ridden clients.
But all is not lost. A source said Monday that the Democratic Party fund-raising stars Carl Spielvogel and Barbaralee Diamonstein-Spielvogel are in contract to sell their seventh-floor apartment at 720 Park Avenue for around $37 million, though they paid only $20 million just two years ago.
Reached on Monday evening, Ms. Diamonstein-Spielvogel, a member of the Landmarks Preservation Commission from 1972 to 1987, was exceptionally unamused about being phoned. "I am not prepared to talk about it. I am not prepared to talk about it," she repeated. Her stately, unsmiling monotone was fairly terrifying. "I am surely not discussing this."
When told that a source had said her apartment would be selling for $37 million, she said, "That's not accurate." Which part? "The number. Bye." She hung up. Afterward, a second source said the price could be slightly higher or maybe a tad lower than $37 million.
Mr. Spielvogel, an advertising executive turned car dealership magnate, served as an ambassador to Slovakia for eight months at the end of Bill Clinton's second term. The couple's posh fund-raisers for the president and his wife, held 10 floors up in the Spielvogels' previous 720 Park apartment, reportedly forced the co-op board to ban residents from inviting officials requiring Secret Service protection without prior approval. "I find it very creepy to have men with guns in the lobby," a neighbor, Ellen Graham, said in 2001. "Besides, anything to keep the Clintons out."
In mid-2006, the couple bought the current 720 Park spread two weeks after selling their previous one for $18.7 million. This time around, their apartment hadn't been on the market, but according to old reports, the place has 14 rooms, 5,780 square feet, five bedrooms, two maids' rooms, a library, a powder room with a private sitting area, plus about six other bathrooms.
mabelson@observer.com