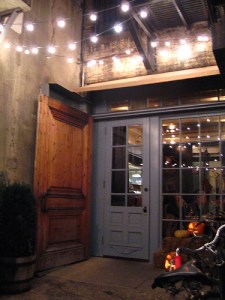 Down By The Hipster has posted a handy map of the bars, hotels, restaurants and clubs along the Bowery, presenting it as proof that the area is the future of Manhattan nightlife. "It's where operators want to open," they write. The "pseudo-dives" of the LES have had their day, as have the rage-inducing megaclubs of West Chelsea (Cain closes this weekend!). Notable destinations in the Bowery vicinity include Freemans, the Bowery Hotel, R Bar, Bowery Electric, Antik Bowery LLC, 35 Cooper Square, Cooper Square Hotel, Great Jones St. Cafe, King's Cross, Butter, Double Crown, Madam Geneva, Mannahatta, Sweet & Vicious, Von and, for good measure, the New Museum (we also like 205 and the Bowery Poetry Club). They conclude that the Bowery is a place "where New Yorkers can sip expensive drinks and still step over the homeless who are sleeping outside the Mission," giving it the "faux authenticity that the youth crave."
It seems they definitely have a point on that end. Via Eater, we learn of an ongoing graffiti battle at 282 Bowery, the future site of downtown colonizer Keith McNally's newest venture. Apparently, the spot is also considered prime real estate by the spray paint touting set, though armistice will likely come once the place is up and running (maybe Mr. McNally will leave it up to up the gritty authenticity quotient?).
If you want to get in on all this now, check out New York's piece about 190 Bowery, a former bank that now functions as a "six-story, 72-room, 35,000-square-foot (depending on how you measure) single-family home." Photographer Jay Maisel bought it in 1966 for $102,000, and it's now estimated to be worth around $50 million, but Maisel isn't selling: "I fantasize about never having to worry about money again. It would be great to take the money and run," he told New York. "But let's face it, where are we going to go? A three-room apartment?" He is, however, considering renting out the first floor, which features wooden floors and a basketball hoop.