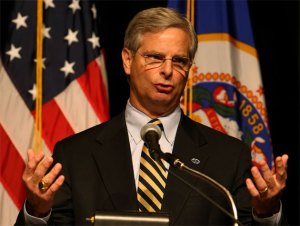 Let's address the question we asked last week: Does print matter? Today's example: The Rick Davis story.
Yesterday, The New York Times printed a front-page story by Jackie Calmes and David D. Kirkpatrick on how McCain campaign manager Rick Davis' lobbying firm has received $15,000 a month from Freddie Mac since 2005. This is after Senator McCain claimed on Sunday in an interview with CNBC and The Times that Mr. Davis has had no relationship with the company for years. (Newsweek and Roll Call also had the story).
McCain spokesman Michael Goldfarb responded on John McCain's Web site. In it, he quibbles with The Times' facts and argues that (a) Rick Davis has received no money from the arrangement or from his lobbying firm since 2006 and (b) the piece is a perfect example of how the paper is out to get them. (Mr. Goldfarb failed to mention that the story was in two other publications.)
The Times argues in the piece that Mr. Davis' lobbying firm was in involved in a deal with Freddie Mac in a campaign where both McCain and his rival Senator Barack Obama are "sparring over ties to lobbyists and special interests and seeking political advantage in a campaign being reshaped by the financial crisis and the plan to bail out investment firms."
In other words, if Mr. Davis' lobbying firm has any connection to Freddie Mac—even if he is on leave from the firm—it's still worthy of a front-page story.
So, what was the pick up?
It was the opening question that Katie Couric asked Sarah Palin last night on the CBS Evening News. That was after Ms. Calmes and Mr. Kirkpatrick held the No. 9 slot on The Times' most-emailed list for the day and No. 2 on its most-blogged list; The Huffington Post linked to it and got over 4,000 comments; Technorati listed 243 blog reactions to it (268 as of today); the story had 493 Diggs on Digg (496 today).
Ms. Palin offered Ms. Couric a tepid response, which would have been all the more interesting had it been an entirely different interview at an entirely different time. We're still getting to know Ms. Palin; as much as we want her opinions on Rick Davis, we also want to, you know, actually get to know who Sarah Palin is. The take-away from that interview is all about her answers to other questions—"I'll try to find you some and I'll bring them to you"—not her defense for Rick Davis.
But where's the story today? With Senator McCain's call to postpone the debates and President Bush's prime-time address last night, it's almost like it never happened. Last week, Politico editor Jim VandeHei told us that he encourages his staffers to think that they exist in a 16-hour news cycle. In other words, if one story captures everyone's imagination at 9 in the morning, then there will be another to replace it later in the day.
Sixteen hours seems like an eternity in the current cycle.
As Newsweek's Jonathan Alter told us, "The story burns more intensely and then it burns out more quickly."