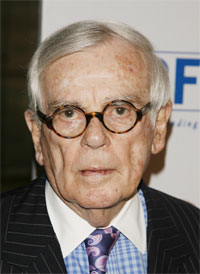 One day after he was profiled in The New York Times 'Style' section by Steve Friess, Vanity Fair's celebrity crime writer Dominick Dunne has been hospitalized, according to the Associated Press.
AP is reporting that Mr. Dunne, age 82, "has been taken to a Las Vegas hospital after he says he was stricken by pain while watching testimony in the O.J. Simpson armed robbery-kidnapping trial."
In Sunday's article, Mr. Dunne told The Times "An O. J. case is the perfect capper because he's been such a part of my life for 13 years… I had a literary following before, but because of O. J. I became a name and a public person, which I love."
He also told the paper, "I think it would be a fitting way to end."
In July, friends of Mr. Dunne set up a virtual get well card on the eve of a serious operation. Mr. Dunne told AP, "I'm fine. They're going to check me out and I'll go back to the hotel and watch the trial there today."