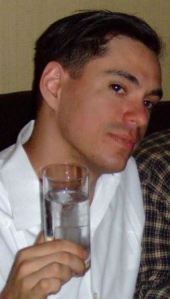 Bartender extraordinaire Sasha Petraske might just be stuck brewing coffee at Mercury Dime on East Fifth Street, after local Community Board 3 again declined to support his aspirations of alcohol service, according to Eater.
Grub Street adds a splash of drama, noting that the Milk & Money maestro "must have assumed his fate, as he didn't show at the meeting."
Still, his pint dreams probably aren't completed crushed by the community board's rejection.
The vote is only advisory, and other bars, notably including the Beatrice Inn, have succeeded in slinging drinks, despite neighborhood protests. That being said, the ruling New York State Liquor Authority (SLA) has tended to lend a more sympathetic ear to the various community boards' whims in recent years. And other operators, including frustrated burlesque club impressario Ivan Kane, feel so obstructed at the community board level that they end up scrapping their plans before even reaching the SLA.
Community opposition ultimately thwarted Mr. Petraske's previous licensing attempt at Mercury Dime.