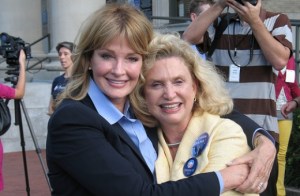 The Times says that Michael Bloomberg's attempt to change the term-limits law carries "significant political risk."
Dan Jacoby supports Bloomberg and opposes term limits, but he opposes Bloomberg overturning them the most.
Lenora Fulani, who helped Bloomberg get elected, feels more or less the same way.
Neither John Liu nor Betsy Gotbaum is pleased.
John Catsimatidis announced that he will still run.
Adolfo Carrion announced that nothing will change with him.
Marc Ambinder reports that there is optimism (!) on Capitol Hill this afternoon.
Barack Obama came out strongly in support of a bailout bill, and with "new energy" tried to explain to a crowd in Nevada why they should support it too.
Leaders in the Senate have "rolled out a concerted propaganda effort" to reassure Wall Street and the world that there will be a bailout by the end of the week–but definitely this time.
House Democrats who voted against the bill have one of their own.
Public support for the bailout has dropped.
Republican Minority Leader John Boehner joins both Obama and McCain to support raising the amount of money the FDIC will insure.
The earliest the House will go back to the bailout is Thursday.
CNN is cynical about McCain's explanation for Palin's problematic statement about Pakistan.
A new poll shows Obama has gained eight points in three weeks in Florida, and now has a small lead.
McCain had planned to return to Washington but is now going to Kansas City.
A woman who processes workers compensation plans in Alaska says she was pressured by Palin, her husband and her aides to deny benefits to Palin's sister's ex-husband. (via A.S.) 
Sarah Palin told Katie Couric that it's just a fact that Joe Biden is a million years older than her.
John Kerry donated $1 million to the DSCC.
Inauspiciously, V.P. debate moderator Gwen Ifill broke her ankle today, but she still plans to be there.