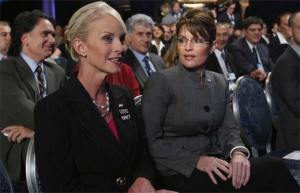 An outline of the plan for the bailout has mostly been agreed upon after the meeting between George W. Bush, Barack Obama, John McCain and other leaders.
But! House Republicans say "not so fast."
The number $700 billion, as it turns out, was sort of random.
McCain went to meet with members of the House to try to get them to approve the legislation.
McCain won't participate in tomorrow's debate, unless the legislation is really going to pass.
Bill Clinton gave a lengthy defense of McCain's decision to suspend his campaign.
But, it isn't a strict suspension, either.
Sam Stein called over a dozen McCain campaign offices in battleground states, and no one's stopped working.
Basically, "Sarah Palin's CBS Interview Tonight Will Make You Really Uncomfortable."
Palin condemned corrupt politicians, but did not return their donations.
Palin did a Q&A at Ground Zero, and said, regarding the Bush administration's war on terror: " I agree with the Bush administration that we take the fight to them. We never again let them come onto our soil and try to destroy not only our democracy, but communities like the community of New York. Never again. So yes, I do agree with taking the fight to the terrorists and stopping them over there."
Joe Biden choked up describing a Steeler giving signed footballs to his injured sons.
Obama doubled his lead on McCain in Michigan.
David Paterson said he's meeting with state leadership to talk about the economy next week, and that it's likely he will call the legislature back to Albany for more budget cuts.
Sheldon Silver suggested a commuter tax, angering many, John Riley suspects.
Malcolm Smith does not want a commuter tax, which means even in Democrats win the State Senate, it would be hard to pass that legislation.
The state prison system cut 200 jobs.
The Albany Project Reports that Paterson is going to give money to Rick Dollinger's campaign.
The Bloomberg administration is trying to frame the City Council opposition to Willets Point as negotiable.
The Brooklyn Paper wants to know a few things about Marty Markowitz.