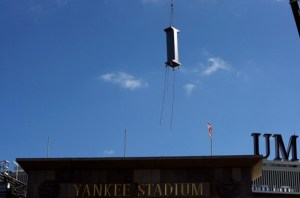 John McCain was wrong when he said the C.E.O.s of Fannie Mae were paid by taxpayers–as the head of a private company, they were paid by shareholders.
Not a surprise, but the trillion-dollar bailout could cripple the federal budget.
Barack Obama met with economic advisers today and backed the bailout.
According to Chuck Schumer, lawmakers were told today that the economy could die.
David Paterson asked that the new "federal asset relief" program be based in New York.
No one is showing up to testify, but it looks like the investigation into Sarah Palin's Troopergate will be over by the election.
The A.P.'s David Espo says the effort to stop the investigation "reflects the same determination and many of the same methods employed in shutting down the 2000 presidential recount in Florida."
Organizers of the "Stop Iran" rally tried to get Joe Lieberman and Norm Coleman before they asked Palin.
Hillary Clinton is launching an initiative to pull more of her supporters to Obama, somewhat ominously named "Hillary Sent Me."
McCain said Obama is against nuclear power, but that's not true.
With or without him, Bill Thompson's mayoral race seems to be starting up.
City legislators want David Paterson to veto a bill that would prevent the city from storing emergency drinking water in a Long Island aquifer.
Sandy Treadwell wants Kirsten Gillibrand to appear at a town hall.
Phil Anderson spots Caesar Trunzo's new ad campaign.