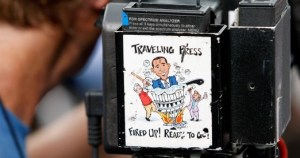 Organizers asked Sarah Palin not to go to a "Stop Iran" rally after Hillary Clinton pulled out.
One of the reforms Palin wants in Washington has already been accomplished by Barack Obama.
Palin did her best to lower expectations for her debate with Joe Biden, which included saying, "I think he was first elected when I was like in second grade."
Palin often says she took a pay cut when she became mayor of Wasilla, but it's a bit more complicated than that.
The McCain campaign has canceled Palin's major fund-raising swing through California.
Jonathan Martin thinks McCain's Spain gaffe was actually just a problem of communication.
Dave Dinkins is not officially endorsing Bill Thompson yet, but says he "supports" the comptroller's mayoral bid.
Citizen's Union is organizing to block an extension of term limits.
Yvette Graham is raising money for her Brooklyn borough president race.
Two workers whose scaffolding almost came down were dramatically rescued from 60 stories up in midtown.
The city has a response to counter Richard Brodsky's claims about Yankee Stadium.
A congressional hearing on the stadium was highly critical of both the Yankees and the city.
The federal energy regulating body made a ruling today that means investors in a huge Central New York powerline will be reimbursed, leaving taxpayers with the $2 billion cost.
A piece of the Adirondacks that is apparently the "Jerusalem of the American wilderness movement" was purchased by the Nature Conservancy.