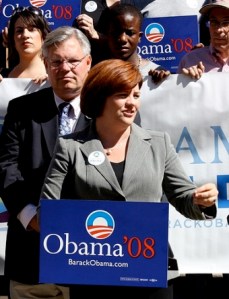 Barack Obama and John McCain laid a wreath at Ground Zero today, as Cindy McCain held Michael Bloomberg's arm.
Tonight they will both attend a civic service forum at Columbia, where David Paterson will also speak.
For reasons that are not entirely clear, Toby Maguire will reportedly also speak at Columbia tonight.
An advance partial transcript of Sarah Palin's interview with Charlie Gibson shows one of the questions he asked was, "Are we fighting a holy war?"
She also warned that war with Russia may be necessary.
An Alaskan blogger notes that Palin praised Obama's energy plan in a press release early last month.
McCain, earlier today, said Palin was "right" on Russia and Iran, but Ben wonders what previous position he's referring to.
The McCains get their moment in People.
The Staten Island Advance has a detailed breakdown of the votes in Tuesday's primary.
Jim Wyne, the loser of the Republican Congressional primary there, quit his position with the G.O.P.
Second Avenue Sagas reports much joy over the city's new double-decker buses.