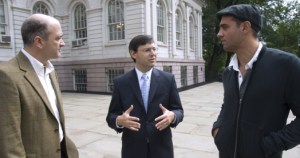 Five Republican lawmakers in Alaska are asking a judge to stop the investigation into Sarah Palin's firing of a top police official.
From the AP: "Asked about her refusal to turn over e-mails to an Alaska investigator, Republican vice presidential candidate Sarah Palin looked up, smiled — and then stepped wordlessly into her waiting car. "
"She's really done a lot of work on oil and gas, but when it comes to violence against women and children. . . we haven't been on her radar as a priority," the executive director of the Alaska Network on Domestic Violence and Sexual Assault told ABC news.
Although it's been refuted by the McCain campaign, Palin told a crowd in Ohio that during the Republican convention her teleprompter was broken.
The New Republic talks to Palin's former opponents.
John McCain now says the economy is troubled.
Reporters on the McCain campaign plane held a brief rebellion and demanded to see the candidate, but they didn't win.
After Carly Fiorina said that Palin couldn't run a big corporation, she tried to soften the blow by saying McCain, Obama and Biden couldn't either. 
The Indoor Tanning Association defends Palin.
Charlie Rangel will not step down from his chairmanship.
Chuck Schumer asked that an upstate ski resort be allowed to stay open for the full season.
The Assembly ethics committee is meeting again, but no word on which of three members they might be discussing.
The Brooklyn Optimist says at last night's Brooklyn county Democratic meeting, officials took "every opportunity to eschew debate and neutralize dissent." 
The Republican candidate challenging Representative John Hall is asking for five debates.
Sheepshead Bites posts a petition called "DON'T KILL CONEY ISLAND."
Upstate, Alice Kryzan is wooing labor leaders, who did not support her during the primary.
There's another write-in candidate for Congress on Staten Island.
Brooklyn residents near the Atlantic Yards footprint are concerned about 86 trees that have gone missing.