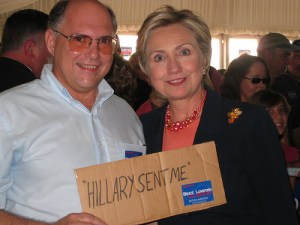 Henry Paulson and Ben Bernanke urged Congress to move fast on a $700 billion bailout of the economy, but members of both parties have huge problems with the plan.
Barack Obama wants Paulson to go "back to the drawing board."
Paul Krugman thinks Paulson's credibility is (already!) shot.
The Financial Times seems to agree.
Steny Hoyer says, "Nobody is happy."
Though Jonathan Martin says John McCain is edging towards supporting the bailout.
The Republican Party platform is explicitly against government bailouts, not that anyone reads platforms, Ben says.
Sarah Palin had a long meeting with Henry Kissinger, who promised to give her more insight on Georgia.
"For many Alaskans," Time magazine writes of Palin's new tack on the Troopergate investigation, "all this maneuvering is a bit too clever."
The first sentence of this 2006 story in the Anchorage Daily News: "Is Sarah Palin ready to be governor?"
Following the lead of the A.P., CNN headlines an item, "Ticker: Press gets Palin access for 29 seconds."
The under-discussed but crucial Great Lakes Compact passed Congress.
Assemblyman Mike Gianaris just got back from Chicago, where he got to have dinner with Obama!
Jonathan Hicks says there is increasing pressure on Bob Straniere to drop off the Republican ticket in Staten Island and let Vito Fossella run for re-election.
The city is ready to retrain Willets Point workers in the hotel industry, but most of them just want to keep their jobs, and move with their employers.
The city is boasting of a relatively low foreclosure rate.
In his Q&A with Vanity Fair, Michael Bloomberg says his dying wish is bouncing a check to the undertaker.
Irina Aleksander rounds up the Sarkozys' visit to New York.