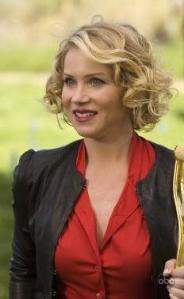 The 60th Primetime Emmy Awards air Sunday night on ABC. In preparation, we thought it would be fun to give you a little help on your office pool. Welcome to Day 3 of our Emmy preview!
We've already handicapped the supporting races. Now it's time to look at the lead actresses.
Best Actress, Comedy: Christina Applegate, Samantha Who?; America Ferrara, Ugly Betty; Tina Fey, 30 Rock; Julia-Louise Dreyfus, The New Adventures of Old Christine; Mary-Louise Parker, Weeds
Who we're pulling for: With apologies to the other four nominees, all of whom are deserving of this win, there's only one woman we're going to be pulling for: Tina Fey. What can we say? She's funny, whip-smart and possibly the most endearing actress on television. The best part about Ms. Fey's performance is that it actually got much stronger during season two of 30 Rock. She used to be an expert straight-woman, now she's a legitimate leading lady. Our huge crush on her doesn't hurt, either.
Prediction: The Emmy Awards usually love two things: first time category nominees on new shows and comeback stories that you never thought you'd see. Christina Applegate manages to be both. It also doesn't hurt that she gives a hilarious performance on Samantha Who? We're sure her acceptance speech, after her successful double mastectomy, won't leave a dry eye in the house.
Best Actress, Drama: Glenn Close, Damages; Sally Field, Brothers and Sisters; Mariska Hargitay, Law & Order: Special Victims Unit; Holly Hunter, Saving Grace; Kyra Sedgwick, The Closer
Who we're pulling for: This is a tough category for us to find interest in, because we can't say we're big fans of any of these shows. However, our parents are. And we always hear them talking about Kyra Sedgwick, so we assume she must be good. Since we've liked Ms. Sedgwick from all the way back in Singles, we'll gladly pull for her on Sunday.
Prediction: If Mad Men is the Emmy Awards trendy pick for 2008, than consider Damages its hand-me-down little brother. The critically acclaimed show was lauded for its great performances, notably that of  Glenn Close. And since old favorite Sally Field already won last year, it should be Ms. Close's time to shine. One tip for her: don't say anything about the "Goddamn war."
Tomorrow: the Actors.