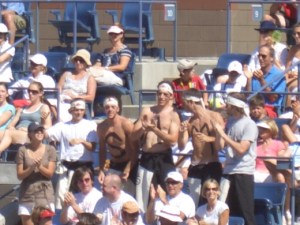 Move over, J-Block! We've got a new American fan base in town. Sam Querrey's fan club, "The Samurai," is made up of a few bare-chested young fellows who spell out his first name on their bodies, and a few others with white headbands.
I really do prefer The Samurai to the low-rent attitude of the J-Block, what with their fratty and crude screaming (which James Blake actually caught a lot of heat for after his loss the other night). The Samurai sits in the player's box, not a luxury suite, and I caught them several times applauding winners and aces from Rafael Nadal.
They may need to switch it to another gear, though. Their boy, Querrey, is down a set against Nadal.