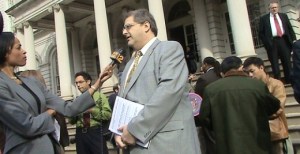 City Councilman Lew Fidler said he understands why some people, and some members of Congress, opposed the federal bailout legislation.
"It seems like it's OK for an individual to lose their house, but it's not OK for Merrill Lynch to lose its shirt," Fidler said in a brief telephone interview.
But he also noted that now, since there will be less money from Wall Street contributing to city tax revenues, there will be more competition between City Council members and others who relying on city funds.
"I think every time the pie gets smaller, for whatever reason, it increases competition among everybody," said Fidler, who also said he was "shocked" the bailout plan didn't pass.
There will likely be choices that lawmakers have to make about how to fund "public concerns, like public safety and education," Fidler said. "It's a decision that nobody wants to have to make."
Fidler said has seen reports of state lawmakers who are in favor of raising taxes. "Some people come to that conclusion a lot more easily than others. But everybody has to be willing to come to that conclusion at some point."