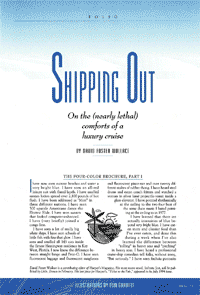 As a tribute to the late David Foster Wallace, Harper's Magazine, where the writer was a contributing editor, has made his work available on the Web to non-subscribers. Included in the collection of PDFs is Mr. Wallace's "Shipping Out," which formed the basis for his collection A Supposedly Fun Thing I'll Never Do Again. The January 1996 piece follows Mr. Wallace on an exceedingly miserable luxury cruise to the Caribbean.
Here is Mr. Wallace's bravura description of his cabin's bathroom:
The sink is huge, and its bowl is deep without seeming precipitous or ungentle of grade. Good plate mirror covers the whole wall over the sink. The steel soap dish is striated to let sog-water out and minimize that annoying underside-of-the-bar slime. The ingenious consideration of the anti-slime soap dish is particularly affecting, Keep in mind that 1009 is a mid-price single cabin. The mind positively reels at what a luxury penthouse-type cabin's bathroom must be like.
Merely enter 1009's bathroom and hit the overhead light and on comes an automatic exhaust fan whose force and aerodynamism give steam or offensive odors just no quarter at all. The fan's suction is such that if you stand right underneath its louvered vent it makes your hair stand straight up on your head, which together with the abundantly rippling action of the Scirocco hair dryer makes for hours of fun in the lavishly lit mirror.
The shower itself overachieves in a very big way. The HOT setting's water is exfoliatingly hot, but it takes only one preset manipulation of the shower knob to get perfect 98.6-degree water. My own personal home shower should have such water pressure: she showerhead's force pins you helplessly to the stall's opposite wall, and the head's MASSAGE setting makes your eyes roll up and your sphincter just about give. The showerhead and its flexible steel line are also detachable, so you can hold the head and direct its punishing stream just at your particularly dirty right knee or something.
You'll have to read the whole thing for Mr. Wallace's description of cabin 1009's toilet.
Other works by Mr. Wallace can be found on The New Yorker and The Atlantic's Web sites.