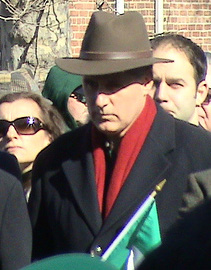 Democratic State Senate candidate Jim Gennaro is having an environment-themed fund-raiser tonight, hosted by Robert F. Kennedy, Jr. and City Council Speaker Christine Quinn.
It's taking place tonight at 5:30 at Cafe Notte, "a sustainable wine bar" on the Upper East Side, according to a reader. On the cafe's web site, it says co-founder Steven Salsberg "was appointed Vice Chairman by Mayor Bloomberg to the Council on the Environment of New York City. Steven is committed to making New York City restaurants environmentally responsible, and Café Notte is no exception."
Gennaro, the chair of the Council's Environmental Protection Committee, is trying to unseat Republican State Senator Frank Padavan of Queens. At an earlier fund-raiser, Gennaro has said he thinks his timing couldn't be better.