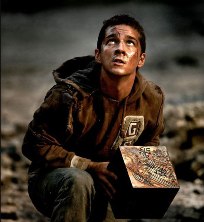 What could be better than watching the giant talking robots in the upcoming film Transformers: Revenge of the Fallen wrestle with each other, talk and, um, transform? Watching them do all that on a 53 foot high IMAX screen, of course! Director Michael Bay, taking a page out of Christopher Nolan's playbook, announced that he plans on shooting select scenes for next July's sure-to-be smash hit sequel to Transformers with IMAX cameras. According to the press release, Mr. Bay will "integrate the IMAX footage with state of the art CGI to create an unprecedented look and feel" for the film. Awesome! With love unprecedented stuff! Maybe the robots will come off the screen and walk around the theater!
Perhaps by giving himself over fifty feet of movie screen, Mr. Bay will be able to shoot some actions scenes between the robots that are actually possible to follow without causing an epileptic fit. Plus, who wouldn't want to see Shia LaBeouf's face look as big as an apartment complex?
Kidding aside, as fans of the candy-colored, hyper-insane brilliance that was Transformers, this is fun news. We're big proponents of IMAX, going so far as to see The Dark Knight at 10 a.m. on the Sunday of opening weekend, because that was the first available IMAX show time. We even saw Spider-man 3 in IMAX. Seriously. So it goes without saying that we'll trek up to Lincoln Square next July to see this beautiful mess.