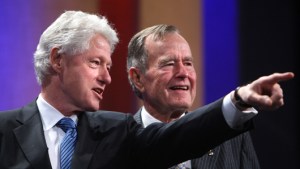 On the morning of September 24, George Herbert Walker Bush, the 41st President of the United States, waited patiently in the lobby outside a ballroom at the Clinton Global Initiative conference in the Sheraton New York, wearing a wool pinstriped suit and aggressively biting a red apple.
On a stage inside the ballroom, Bill Clinton, the 42nd President of the United States, talked about the progress his foundation had made in making the world a better place. Bush's entrance and their announcement of a plan to visit hurricane-ravaged states together again was meant to be a surprise. So he stayed out of sight behind the ballroom doors, chatting with aides, amiably posing for pictures, looking over his speech and then tossing the apple core at a trash can. (He missed. A fan happily rebounded it for him.) He looked around, a little bored, and then his old friend Andrés Pastrana Arango, the 38th president of Colombia, walked up and patted his arm.
"Mr. President," said Arango.
"Mr. President," said Bush.
Arango introduced his son, Santiago, a college student with floppy, shiny black hair.
"How old are you?" the former president asked Santiago. He turned and called over his granddaughter. "Hey, Lauren," he said.
Lauren Bush, who is blonde, and designs and models clothes, walked over in black heels. She wore a fashionable cardigan vest that hung over her blouse and skirt. She smiled and carried a muslin tote bag that said "FEED the Children of the World." Her grandfather introduced her to Arango, "the former president of Colombia."
Arango introduced her to his son, who wore what looked like a black Bar Mitvah suit. She smiled gracefully and he smiled eagerly as they shook hands.
Bush asked the younger Arango where he went to college.
"Spain—Madrid," he said. "When my father left office we went to Spain."
"Oh, I love Spain," said Lauren.
They talked about Colombia, a country Bush's granddaughter confessed she had yet to visit. "You've never been, so you have to go," said Santiago. The discussion turned to Bush's smart tote bag, which she said was selling wildly and aiding a good cause. "We should send some to Colombia then," the younger Arango said, winningly.
During the conversation a well-wisher came up to the young model. "Oh, oh my God, hey," she said. Handlers whispered to Bush that he would go onstage soon. He nodded. The conversation petered out and the Arangos made their farewells.
"Good to see you, Mr. President," said former President Bush.
The handlers got the cue they were waiting for in their Secret Service-style earpieces and led Bush into the ballroom. Former President Arango stayed behind and answered a question from a reporter, who was interrupted by one of the omnipresent and aggressive conference volunteers. The women wore blue scarves and white shirts and the men wore blue ties and white shirts. They both stalked the halls interrupting any conversations between reporters and conference "members," as the credentials hanging from the necks of attendees read.
"Very fussy," former President Arango, himself a former news anchor, said disapprovingly.
The CGI conference, as it is known, has for four years been a place for dignitaries, do-gooders, former presidents and aggressive special interests to get together and talk about ways to raise money for worthy causes. (The Clinton Foundation said that the week's conference resulted in the commitment of about $8 billion to help fund a variety of humanitarian efforts.) It's also been a place for them to catch up and network. (John Sauer, an aggressive representative of something called "Water Advocates," handed his card to another conference attendee over a urinal.)
It has always been, for reporters, an extremely target-rich environment, with important and hard-to-get leaders and societal titans walking the hallways, exposed, like ordinary people, and eager to chat. ("I'm going to poverty, you going to poverty?" said Alan Patricof, a major Clinton fund-raiser to a friend. The friend replied, "Education." "Education?" answered Mr. Patricof, unimpressed.)
But this year, the army of volunteers forced the press downstairs, into dark corners of the ballroom without seats or power outlets, away from the elevators and away from both the attendees who wanted to talk to reporters and those who didn't.
Some other things haven't changed, though, even if maybe they should have. A quote on one of the blue conference posters papering the hotel read, "This is a time to build bridges and not burn bridges," a dictum attributed to "Pervez Musharraf, President of the Islamic Republic of Pakistan."
After Clinton and Bush announced their travel plans ("I love working with President Bush," Clinton said from the stage) the crowd in the ballroom broke up into their "Poverty," "Education," and "Global Health" working groups. Wesley Clark, the former general and presidential candidate who sits on the board of something called "Emergya Wind Technologies," followed the Arangos up an escalator. They talked briefly about energy and business.
"Who do we, uh, contact? Do we call you?" said Clark after a few minutes.
"Generaaaal," Arango said, as if to say, of course you must call me directly! He gave him a card with his personal contacts and they both attended their respective working groups. They were closed to the press.