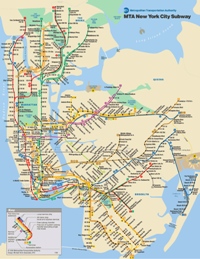 Google Maps has gone underground! Now you can navigate the subway with their maps services. This morning they added comprehensive transit information for the entire New York metro region, including subway, commuter rail, bus and ferry services from the Metropolitan Transit Agency (MTA), the Port Authority of New York and New Jersey, New Jersey Transit and the City of New York. Watch out, HopStop.com!
Here's more from Chris Harrelson, Tech Lead & Creator of Google Transit, on the Google blog:
Transit is a vital part of the infrastructure that makes cities run efficiently, and can help mitigate congestion, environmental concerns, and increasing energy costs. But until recently, access to that information has been more difficult than it needs to be. Even very prominent train and subway stations were often omitted entirely from maps in many cases. And as for bus lines, well, forget about it! This lead us to the fundamental goal of the Google Transit project: make public transit information as easy to find as any other geographic information.
We can only achieve this goal if we work closely with transit agencies around the globe to bring accurate and comprehensive transit information to everyone. Our role in this partnership is to bring all of this information together and make it easy to search and browse in interfaces that are simple, consistent and readily available.