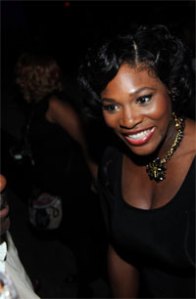 Last week, Media Mob reported that several publishers were considering a memoir from tennis superstar Serena Williams. The purchase price was thought to be nearly a million dollars. Not too bad for an author, but, you know, Ms. Williams signed an endorsement deal with Nike in 2003 reported to be worth $40 million.
Anyway, the Associated Press' Hillel Italie is reporting that Ms. Williams scored an undisclosed advance form Hachette Book Group's Grand Central Publishing division after an obligatory publicity-generating auction. (Feel free to insert your own "Grand Slam for Grand Central" jokes here.)
While the advance is not officially known, according to "a publishing official with knowledge of the negotiations" it may have reached at least $1.3 million.