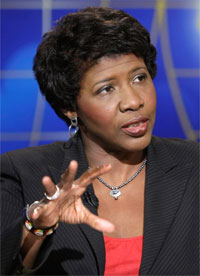 On TVNewser, Alissa Krinsky breaks the news that Gwen Ifill broke her ankle Monday night falling down the stairs in her home while carrying "research related to her moderating duties at Thursday's Vice Presidential debate in St. Louis."
According to TV Newser, despite the injury, Ms. Ifill will still moderate Thursday's debate.
Odd coincidence: According to Wasilla legend, when Sarah Palin was in high school she prevailed in a pivotal basketball game despite having to play on a broken ankle.