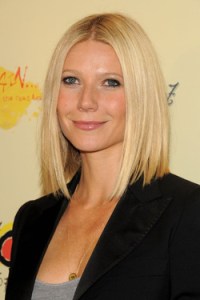 Gwyneth Paltrow's just-launched lifestyle website, GOOP, is looking a little bare right now. Its stated purpose is to "nourish the inner aspect," but the nature of Ms. Paltrow's particular brand of sustenance remains mostly unclear. The site lacks both an explanation of its vaguely icky title (we imagine it's some kind of acronym, but we can't figure it out based on the content) and that staple of most celebrity-driven sites—the blog. As of this writing, GOOP consists of six silouettes (a pair of utensils, a bike, a mini-sheath dress, a playground slide, a butterfly, and binoculars) each of which is rendered in a tasteful, muted color and paired with an infinitive ("Make," "Go," "Get," "Do," "Be," and "See," respectively). We clicked on the first of these, "Make," and were directed to this little essay: 
My life is good because I am not passive about it. I want to nourish what is real, and I want to do it without wasting time. I love to travel, to cook, to eat, to take care of my body and mind, to work hard. I love being a mother who has to overcome my bad qualities to be a good mother. I love being in spaces that are clean and nice.
Over the years, I have tried lots of different things. I have made lots of mistakes. But I have figured some things out in the process and I wiould like to share them with you. Whether you want a good place to eat in London, some advice on where to stay in Austin, the recipe I made up this week, or some thoughts from one of my sages, GOOP is a little bit of everything that makes up my life. 
Make your life good. Invest in what's real. Cook a meal for someone you love. Pause before reacting. Clean out your space. Read something beautiful. Treat yourself to something. Go to a city you've never been to. Learn something new. Don't be lazy. Workout and stick with it. GOOP. Make it great.
Sounds good! A little nebulous, maybe, but we were willing to accept Ms. Paltrow's abstract conception of the word. After all, one does "make" all the things she described–food, mistakes, hotel and restaurant reservations. Our return to the main page for her take on "Go" was a bit of a disappointment, however–the icon directed us to the same essay. So did "Get," "Do," "Be," and "See." 
Now what? We found that the only other thing there was to do with GOOP was to sign up for the newsletter, which promised us "A taste of what's to come." Ah! It seems that GOOP's spareness is at least partially due to the fact that is has not yet "officially open[ed] its doors." In the meantime, the newsletter will just have to tide you over. Ms. Paltrow adopts the tone of the breezily undermining new-agey neighbor we've always suspected she would be: "We're having an especially good and creative time in the kitchen right now. I'll send along some of the recipes I've been working on," she promises, presumably while also silently noting that she has seen us wearing this dress at least three times in the last month. Additionally, those who sign up will receive "some travel notes, some fashion buys, and some other surprises." 
So, from what we can gather, GOOP is going to be a Paltrow-authored (or more likely, inspired) Daily Candy-meets-Martha Stewart hybrid.