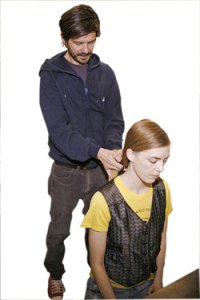 To understand the real estate deals of high-end hairstylists is to understand the real estate of New York itself. Truly, hairstylists are the great undiscovered Manhattan housing bellwether.
Consider that in the shinier, happier days of January 2007, the Gerard Bollei Salon hair colorist Thomas Frasca and his partner, Alan Adler, sold their scrupulous Perry Street town­house for $9.1 million, though they had paid less than one-fourth that price. Then this February, as Manhattan's bubble got slightly less furious, Orlando Pita, who started a salon a few years ago that charged a city-high $800 for a cut (about $10 per minute, according to one article), signed a contract for an apartment at 101 Warren. He paid about $3.4 million.
This month, as New York lowered itself into a brutish alternate reality, Guido Palau, the Bournemouth-born stylist mostly known by his first name, spent $1.9 million on a Chelsea brownstone duplex on West 22nd Street, according to city records. Not that the price is anything to sniff at, but it's a lot less than the Warren and Perry spreads.
Still, Mr. Palau, called "arguably the world's most influential hair designer" (because of his work with Calvin Klein, Marc Jacobs, Prada, Versace, Chloé, et al.) in a Telegraph profile this year, will have recently-renovated bathrooms, a Juliette balcony off the master bedroom, a bigger terrace off his den's insanely beautiful wooden French doors, and a fireplace in the downstairs living/dining room.
"I guess a stylist would love it because of its—how would I even say it?—homeyness," offered Darren Kearns, one of the listing brokers. He said Mr. Palau was "really down to earth, very relaxed," which contradicts two comments left on the Sartorialist blog: "Great hairdresser—great prima donna," and "Great hairdresser—shame about the shocking prima donna attitude."
He could not be reached through his broker.
mabelson@observer.com