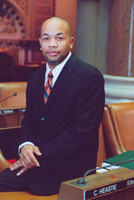 Supporters of Assemblyman Carl Heastie's efforts to oust Jose Rivera as Bronx Democratic County leader sent out a public statement just now with an account of what happened at the raucous meeting last night. 
From the release:
Before the Organizational Meeting of the County  Committee began, a small group of elected officials that supported Jose Rivera stormed the stage and purportedly ran a meeting which in reality was a rally in support of Jose Rivera by people who were not members of the County  Committee.  By doing so, they temporarily prevented County Committee Chairperson Carl Heastie from presiding over the Organizational Meeting, a right which clearly belonged to him per the Rules of the Democratic Party of the County  of Bronx.  This right was reaffirmed by Judge Seewald in a decision in which he quoted Section 2-2.1 of the Rules: "The Chairperson shall continue in office and exercise all of the powers under these Rules until the election of the Chairperson of the County  Committee at the next Organizational Meeting."
What really happened last night and what it means is a lot of he said, she said at the moment. 
Any other witnesses out there with additional or different information, please be in touch. (apaybarah[at]observer.com)