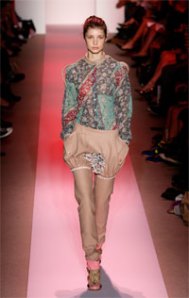 On Saturday, Sept 6., the tents in Bryant Park turned into a sea of khaki trench coats as the crowds escaped Hurricane Hanna for Alexandre Herchcovitch's 7pm show. Guests seemed far less concerned with how they looked in the front row than with staying dry. The Daily Transom counted several pairs of rubber galoshes and L.L. Bean duck boots in the front row
Even Kelly Cutrone, the publicist handling the show, was running around in patent leather, pointy-toed, ankle high boots that looked like they would keep her feet dry even if she decided to go running through the puddles outside.
Perhaps because celebrities have been known to melt on contact with water, we only spotted photographer and Top Model judge, Nigel Barker, and Olympic gymnast Alicia Sacramone.
The collection, titled Army of Love, was heavy on khaki, military-inspired garments, softened with floral fabrics and ruffles around the crotch.
"My hope is that people get my message which was a message of love," Mr. Herchcovitch told the Daily Transom after the show. "We tried to figure out what the 'love army' uniform is and so we mixed very structural shapes of uniforms and very fluid silhouettes."
Mr. Barker seemed somewhat bewildered by the whole thing.
"I enjoyed the show, but it felt a little short to me and also it was very interesting because it seemed more couture than ready-to-wear," he said calculating every word so not to offend. "Yes, it was very interesting.
"I was surprised by some of it," he continued. "It felt like a fall collection to me more so than a spring or summer collection. But you know what, he takes risks."
And how was Mr. Barker handing the rain while running between shows?
"I had to change twice today already!" he said. Hey, it beats laying bricks!