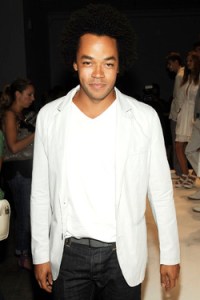 It could be that fashion industry types are drinking away their slow-economy blues this Fashion Week, or perhaps they've just finally acknowledged that many runway looks are more attractive after a strong drink, but alcohol is is increasingly prevalent even in daytime Fashion Week events. Designers providing free liquor to their guests so far include Alexander Wang, Vena Cava—champagne and Budweiser tall boys!—and Loden Dager, whose Bungalow 8 show morphed into an afternoon cocktail-party, with waitresses proffering tasty concoctions made of the ginger liqueur Canton.
Rag & Bone, which has in the past opened a bar at Cipriani 42nd Street, went dry for their Joy Division-inspired show last Friday. Marc Jacobs also restricted the beverages to his after-party Monday night, after serving champagne on ice last season.
The Gap, showing much-discussed designer Patrick Robinson's latest collection Sunday morning at a chaste, airy space in West Chelsea, offered something else entirely! As dewy boy and girl models in pink and purple drapey cardigans and color-block bathing suits gazed around from a platform in the center of the room—hell, some of them were flirting with each other!—editors, writers, and buyers sipped from plastic cups of fruit juice with straws. Choices included mango and passionfruit. And no, they were not alcoholic, we learned from a buff male server.