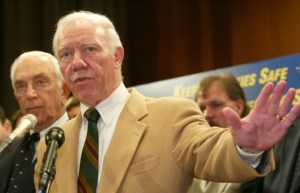 The chairman of the U.S. House Transportation and Infrastructure Committee, Representative Jim Oberstar of Minnesota, today pledged his support to bring in substantial federal dollars for major transit projects in the New York City area when Congress takes up a major national transportation bill next year.
Speaking at a luncheon of the Business Council of New York State and the New York Building Congress, Mr. Oberstar said he wants New York to be seen as a national model for the virtues of transportation investment.
"We need to have a grander vision, a greater sense of investment in urban America," Mr. Oberstar said. "We need to start with our infrastructure investments in New York City–we need to spread that lesson across America, and next year we're going to do it."
The pledge comes as Mr. Oberstar begins to set priorities for the federal transportation bill, which comes before Congress every five years. As committee chairman, he has much control over how the federal transportation bill (which he said would be at least $450 billion) gets divvied up.
Extra billions from Washington would come as welcome news to New York area officials, as the M.T.A. is starving for money to finance projects such as the Second Avenue Subway; the Port Authority and New Jersey Transit need billions for their planned new set of rail tunnels under the Hudson River; and Representative Jerry Nadler wants funding for a less-than-sexy multi-billion dollar freight rail tunnel from New Jersey to Brooklyn.
Mr. Oberstar voiced support for all including the freight rail project, which has been pushed by Mr. Nadler for years but lacks any real funding sources right now. Calling it "the Jerry Nadler Cross-Harbor Freight Rail Tunnel project," he said it would create thousands of jobs amid an economic downturn. "We'd be putting people to work and making New York City more efficient," Mr. Oberstar said in reference to the tunnel.
So where will all the money come from?
Mr. Oberstar voiced support for raising the gas tax, but such a move might not be as popular among his colleagues in Congress given already high gas prices.